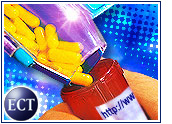 Online pharmacyDrugstore.com continues to narrowly outpaceniche competitor PlanetRx (now XMediapartners.com)and retains the No. 1 spot among Internet healthretailers, according to new rankingsreleased by Forrester Research.
Although researchers surveyed a number of e-tailers in the category, theyconcluded that the contest essentially boiled down to a "two-horse race."
Drugstore.com earned a 66.81 rating in Forrester's "PowerRankings" index,which measures company performance on a 100-point scale across a host ofdifferent categories, while PlanetRX.com came in a closesecond with a 64.46 rating.
By comparison, Forrester said, rivalsVitaminShoppe.com and WebRX.com laggedfar behind with scores of 57.94 and 51.63 respectively.
Amazon Boost
Bellvue, Washington-based Drugstore.com — which offers health, beauty andpharmacy products — has taken the strategy of building onalliances with well-known companies such asAmazon.com, Rite Aid Corp., General NutritionCompanies and WellPoint Health Networks.
Drugstore.com nearly swept all of Forrester's breakdownsby category. According to the research firm, Drugstore.comranked first in cost, customer service, transaction efficiency andshopper-friendly features. The site got high marks forits customer reviews and allowing customers tocancel their unshipped orders online.
However, Forrester warned that theDrugstore.com Web site still hassome "rough edges." The PowerRankings report commented on the site'sconfusing checkout process and theimposition of a fee for customers to orderout-of-stock items.
PlanetRX.com Places
For its part, runner-up PlanetRX.com gained points fordelivery and usability features. Forrester noted that thee-tailer offered the quickest customer service replies.
Like Drugstore.com, Forrester said that the PlanetRX.com sitehas some drawbacks, including the lack of a 24-hour call center.
Lagging Behind
The health retailers that lagged behind got lowscores across the board.
"Slow checkout and inconsistent customerservice did in VitaminShoppe.com,while WebRX.com no doubt is struggling as it tries to integrate a host ofsites including More.com, Vitamins.com, and HealthCentralRX.com," saidForrester senior analyst Tom Rhinelander.
Power Play
To compile its PowerRankings of the top U.S.-based e-commerce sites,Forrester asks consumers about their onlinetransactions and experiences, and also conducts independentWeb shopping tests. Approximately 20,000online buyers were polled for the latesthealth e-tailer survey.
Drugstore.com's top placement in the index should come as a welcome dose ofgood news for the e-tailer. In October, it laid off 60 employees, whichamounted to roughly 10 percent of its workforce.
At the time, the company said the cutbacks werepart of its plan to reduce operating expensesand achieve sustainable growth. In its recent, third-quarter financialreport, the firm said its sales were US$26.5 million, representing a 118 percentincrease over the same quarter last year.
In addition, Drugstore.com said it picked up 190,000 customers in thequarter and predicted fourth-quarter sales would meet with analysts'forecasts.
Sector Shakeout
The health and beauty sector has struggledto gain a foothold in thee-commerce arena. Just last month, cosmetics and beauty supplye-tailer Beautyjungle.com shuttered its operations. Otherhealth and beauty firms that have closed include Eve.com,Beauty.com and Gloss.com.
Industry analysts say the shutdowns are not a surprise. In fact, a recentreport from market research firm InsightExpress called Internet pharmacies a"prescription for failure."
The InsightExpress study found that 93 percent of online consumers had never made apurchase from an online drugstore and that over three-quarters had nevereven visited an online drugstore site. Researchers said the complicated andsensitive nature of buying pharmaceuticals precludeswidespread consumer acceptance of making such purchases online.
On the positive side, a separate report issued byForrester earlier this year said onlinepharmacies could improve sales by implementing interactive features, such ascompliance programs that send customers e-mail reminders about theirprescriptions. Forrester also predicted in that reportthat pure-play pharmacies will begin to partnerwith their physical counterparts in order to deepen their market reach.