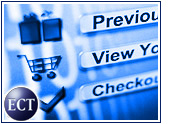 A record number of U.S. shoppers visited e-tail Web sites last week, according to numbers released Thursday by Internet measurement firm Media Metrix.
E-tailers received 35.2 million unique visitors during Thanksgiving week, the firm said, representinga whopping 40.3 percent increase over the same period last year.
"Despite the widely publicized snags consumers experienced while shopping online last holiday season, consumer confidence online remains strong as indicated by the year-over-year increase in the Media Metrix Online Shopping Index," said Anne Rickert, an analyst for the firm.
Less is More
Despite the increased number of online shoppers last week, Media Metrix also reported that daily traffic to retail sites actually declined on Thanksgiving Day and Black Friday — the day so named because retailers hope they will be able to turn red ink to black.
Therewere 23.5 percent fewer online shoppers on Thanksgiving Day than the Thursday before, and that sag carried over into Friday, when there were 16.3 percent fewer shoppers than the Friday before.
However, after a Thursday and Friday spent away from their home and office computers, Americans returned to e-tailers in droves. Traffic increased 6.9 percent and 8.0 percent the Saturday and Sunday of Black Friday weekend, respectively, compared to the Saturday and Sunday of the prior week.
In a similar vein, numbers released on Monday by Nielsen//NetRatings indicated a 27 percent surge in online traffic on Black Friday from earlier in the week.
Footwear on Top
Among the categories surveyed, Media Metrix found that footwear was the top gainer for the week, with an increase of 64 percent over the previous week. Games showed the second gain, with an increase of 40 percent over the previous week.
Other fast-growing categories included flowers/gifts/greeting with a gain of 38 percent, furniture with an increase of 29 percent, and sports/outdoor equipment with a gain of 19.4 percent.
Overall, the top e-tail categories were books and computers during Thanksgiving week, with 2.1 million and 2.0 million average daily unique visitors looking for those items, respectively.
Winning Sites
The most visited site during Thanksgiving week was Amazon.com,with 1.5 million average daily visitors. Amazon also claimed the top spot during Thanksgiving week last year, with 960,000 visitors per day.
Coming in second for the second year in a row was MyPoints.com, with 1.4 million average daily visitors, up from 897,000 in 1999. Rounding out the top five were AmericanGreetings.com, BizRate.com, and Half.com.
The site to gain the most visitors for the week was Peoplepc.com, with an 87.3 percent increase in daily visitors over the prior week. Also gaining a large number of visitors was RadioShack.com, which logged 82.7 percent more visitors.
Ready for Rush
Over 50 percent of online retailers say they are ready to handle the high volumes of orders that they hope the holiday shopping season will bring, according to research by Media Metrix's sister company Jupiter Research. Last year only 10 percent of e-tailers were confident of their ability to handle the influx.
However, Jupiter cautions that shoppers could still be disappointed in the event of a site crash. Numerous e-tailers have been bedeviled by site crashes in the last few days.
Outages, Outages
Friday saw Amazon, BestBuy.com, and eToys suffer outages, while other sites were slower than normal on what is traditionally the busiest shopping day of the year. Observers say that much of the rush can be attributed to parents flocking to e-tailers to purchase PlayStation 2 video game consoles.
The video game consoles are in such short supply that when they become available they are snapped up in seconds. The "PS2 Watch" at Amazon reveals that the Internet giant last had PS2s in stock on Friday and that they sold out within 30 seconds.