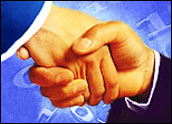 Amazon.comhas inked a content agreement with venerable product-testing organization ConsumersUnion — the publisher of Consumer Reports and Consumer Reports Online — that will allow the Internet giant to publish "unbiased" product advice summaries, merchandise information and ratings on its site.
As part of the deal, Consumers Union said Amazon.com users will be able toview the purchasing advice free of charge throughout various shopping categories. The non-profit company will provide online shoppers with information on particular brands, technical considerations, price ranges and product trends.
"Many consumers now view online purchasing as part of their lives and theyneed independent, expert buying advice at their fingertips," said ConsumersUnion new media vice president John Sateja.
Pay-Per-View
The Consumers Reports summaries were integrated through Amazon's site onTuesday, and currently accompany products in the electronics and cameras/photo categories.
In addition, the group said that its detailed ratings reports andrecommendations will be available early next year on a pay-per-view basis.
Luring E-Shoppers
With the holiday season in full-throttle, many e-tailers are hoping thatuser-oriented features will help lure shoppers and transform them into loyalcustomers.
The Seattle, Washington-based Amazon, which has been beset bya number of setbacks in recent months, is particularly hoping that the independent organization's impartial critiques will set it apart from the wealth of product review sites available on the Internet.
Down, Not Out
Whether Amazon's efforts to secure a larger piece of the e-commerce pie andboost its volume will pay off remains to be seen. The company appears to be on track to meet its goals, attracting more visitors than any other e-tailer during the first four weeks of the holiday season, according to data from audience tracking firm Nielsen//NetRatings.
Despite the impressive showing, Amazon has suffered three separate outagessince Thanksgiving, the longest of which was a 40-minute shutdown onTuesday. The company said that a software conflict took down the site inthis latest incident.
Amazon downplayed the previous outages, which the company attributed to internal "glitches." The e-tailer has also maintained that the temporary shutdowns have not resulted in significant losses.
These performance woes, however, have not dampened industry enthusiasm for Amazon. In fact, several analysts have said that that Amazon is likely to benefit from a strong online holiday shoppingseason and that the company remains on track to stop burning through its sizable cash reserves — now estimated at about $800 million — and turn cash-flow positive in 2001.