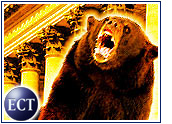 High-tech stocks slid Tuesday despite the Federal Reserve's announcement that it is holding interest rates at 6.5 percent and the hint that itwill cut rates sooner than later.
The Nasdaq composite stock index fell 112.81, or 4.3 percent, to 2511.71, its lowest close since August 10th, 1999. The E-Commerce Times stock index, which charts the shares of 10 prominent dot-coms, including Amazon and eBay, fell 13.2 percent.
Normally, stocks respond positively to news of an interest rate cut, but investors appear to be demanding the rate cut itself, as opposed to a whiff of one, before they put money back into the market.
Bear Stearns analyst Jeffrey Fieler told the E-Commerce Times's E-Commerce Times that his firm believes the Fed will lower interest rates by the time it holds its next meeting at the end of January — and perhaps sooner, if the economy shows more signs of weakening next month.
In the meantime, dot-coms will have to ride out the storm a little longer.
"There's no question that the general economy has an impact [on dot-coms]," Fieler said.
Recession vs. Inflation
In making its announcement, the Fed offered plenty of reason to worry about a potential U.S. economic recession.
"The drag on demand and profits from rising energy costs, as well as eroding consumer confidence, reports of substantial shortfalls in sales and earnings, and stress in some segments of the financial markets, suggest that economic growth may be slowing further," said the Fed, the central banking entity of the United States.
Earlier this year, the Fed's biggest priority was keeping inflation under control in the face of what it feared was an out-of-control economy. Toward that end, the Fed has tried to encourage saving over spending by not cutting interest rates in more than two years. However, Tuesday's announcement signaled a shift in that thinking.
"While some inflation risks persist, they are diminished by the more moderate pace of economic activity and by the absence of any indication that longer-term inflation expectations have increased," the Fed said.
Steadfastness Required
Fieler said that the Fed's moves will not impact the flow of venture capital to high-tech companies. Those with attractive business plans are already prepared to withstand even the new scrutiny that the high-tech shakeout has brought.
"For the rest of them, no matter what the Fed does, there won't be money for them," Fieler said.
Fieler added that while interest rates cuts have traditionally helped lift the value of stocks, the acknowledgement of a weakening economy probably means that many companies will suffer from sluggish advertising revenue over the next six months.
One area to watch, according to Fieler, is the computer software and service sector. Those companies tend to underperform for the first three months following a Fed rate cut, Fieler said, then outperform the market for the ensuing nine months.
Big Names Dropping
Among those companies suffering Tuesday were industry bellwethers Amazon and Microsoft, each of which fell to 52-week lows.
Amazon fell $1.63, or 8.2 percent, to $18.25 per share, its lowest value since October 1998. Microsoft fell $3, or 6.3 percent, to $44.812, its lowest close since June 1998.
Online auctioneer eBay, which had been one of the better performing e-commerce stocks in 2000, fell 15.7 percent to $32.31 per share. As recently as November 2nd, eBay was priced at $57.44.