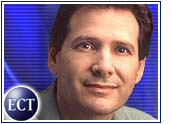 Less than two weeks after shelving an intended expansion into Japan, Priceline.com (Nasdaq: PCLN) said Monday it has canceled plans to launch its name-your-price e-tail service through a subsidiary in Australia and New Zealand.
Myprice Pty. Ltd., an Australia-based company set up by Priceline in March, had hoped to begin its airline and hotel room reservation service early in 2001.
Myprice had launched a telecommunications service in September that enabled customers to bid on minutes for wireless and wired phone calls. That service has been shut down and customers are being contacted individually about their accounts, the company said.
Morningstar.com analyst David Kathman told the E-Commerce Times that even though Priceline was insulated from the direct impact of the Myprice efforts, "the loss of this opportunity is a blow for Priceline, if an indirect one."
Down to the Core
"Priceline is wise to focus on its core U.S. businesses, since it's in no shape right now to be expanding," Kathman said.
Kathman and other analysts have begun to question whether the Priceline business model is viable even in its tightly focused original form.
"Priceline may be close to exhausting the potential of its business model," he added. "If it survives, it will be as a niche player in the travel industry. As far as I can see, that core business is in no immediate danger of going bankrupt, but I'm pretty skeptical of its ability to keep expanding much."
Another Setback
Myprice had been set to pay Priceline an annual licensing fee for the rights to use the name-your-price model. Priceline, which held convertible notes allowing it to buy up to a 50 percent stake in Myprice, said it will take an undisclosed loss in the fourth quarter as a result of the shuttering of Myprice.
Earlier this month, Priceline announced that it would no longer pursue a joint venture with Softbank designed to bring Priceline service to Japan.
That announcement came as Priceline laid off 11 percent of its workforce and abandoned plans to offer life insurance and cellular phones through its U.S. site.
Australia Heating Up
The move to shelve expansion into Australia and New Zealand comes despite evidence that e-commerce is growing rapidly in Australia.
Studies have shown that Australia has a 40 percent penetration rate for Web use, ranking it high among countries outside the United States, and yet has drawn just a fraction of the marketing and online advertising dollars spent elsewhere.
Also, a study released this week by consultant Ernst & Young said that 17 percent of all holiday shopping in Australia will be done online this year, more than double the 7 percent bought on the Internet in 1999.
Downward Spiral
Shares of Priceline were unchanged this morning at US$1 9/16, an all-time low for the stock since the company went public in March 1999.
The stock, which surged briefly after the restructuring was announced earlier this month, traded as high as $104 earlier this year.
Priceline has been dogged by a string of poor financial performance ratings, cutbacks, executive departures, employee layoffs, lawsuits and government investigations for much of this year.
Shatner On Board — For Now
Priceline has also denied that company spokesman William Shatner is no longer working with Priceline. Some news reports have said that Shatner was refusing to go forward with the company.
"Our company and Mr. Shatner have a contract that runs through the fall of 2001," Priceline spokesman Brian Ek told the E-Commerce Times. "We're both pleased with what we've accomplished so far. Reports that this is not the case are simply not true."
Ek declined comment about any possible future expansion plans for the company.