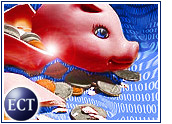 Despite a string of well-publicized financial reversals, name-your-own price e-tailer Priceline.com has agreed to forgive a US$3 million loan it extended to a former top executive and will incur a roughly $3.3 million charge in the fourth quarter as a result.
According to published reports, the loan was made to Heidi Miller, who served as a senior executive vice president and chief financial officer until she left the company earlier this month. A highly regarded finance chief who had come to the company from Citibank, Miller departed after Priceline announced it was slashing 16 percent of its workforce in its continuing bid to trim operating costs.
"In connection with Ms. Miller's separation, the company will record a charge of approximately $3.3 million in the fourth quarter 2000, primarily as the result of the forgiveness of a loan pursuant to the terms of Ms. Miller's employment agreement," said the filing.
Questions Raised
At the time of Miller's exit from the firm, Priceline said that she was leaving "to pursue opportunities and apply her talents in a more established business environment."
However, Priceline's claims that Miller left the company of her own accord raise questions about its decision not to collect on the loan. According to published reports, Miller's employment contract stipulates that she would have to pay back the loan, plus accrued interest, within 30 days if she decided to leave.
However, the contract reportedly indicates that she would be able to forgo payment under defined circumstances, including if she was discharged without cause or was terminated for good reason. Neither scenario has been reported by Priceline to date.
Public Relations Fiascoes
The murky reason for Miller's departure is the latest in a string of recent public relations fiascoes for Norwalk, Connecticut-based Priceline.
Last week, it was reported that Priceline founder Jay Walker had sold 2.1 million Priceline shares for tax purposes. Earlier this month, another top executive left the firm, slamming the e-tailer's car sales model as a failure.
The company has also been hit with numerous class action suits from investors alleging that company directors misled shareholders about Priceline's growth potential.
Bad Times
In addition, Priceline's membership in the Connecticut Better Business Bureau has been yanked. Connecticut attorney general Richard Blumenthal is investigating the company after receiving more than 100 complaints.
Although the company did have some positive news in its third quarter earnings report, these incidents have left many investors skittish and sent Priceline stock into the throes of a market meltdown.
Wednesday morning, shares were trading at a 52-week low level of $2.25.