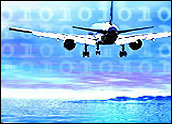 Backed by six of the largest U.S. air carriers, Hotwire.com launched its discount online travel site Tuesday in a bid to chip away at Priceline's dominant market share in the burgeoning sector.
The San Francisco, California-based company received part of its $75 million (US$) investment from American Airlines, America West, Continental, Northwest, United Airlines and U.S. Airways.
According to industry estimates, over three million airline seats are unfilled each week. Because Hotwire.com will be offering consumers unsold seats held by its partners, the start-up says it will be able to offer discounts of up to 40 percent when compared to air travel purchased from traditional outlets and rival Internet travel brokers.
By selling inventory that would otherwise go unused, Hotwire.com's backers are aiming to generate revenue without lowering fares on regularly-priced tickets.
Fixed-Price Service
Hotwire.com does not use an auction model. The company is hoping to snag customers who have been frustrated by Priceline's name-your-own-price service.
"Many people are fed up with the hassles of buying travel online," said Hotwire.com CEO Karl Peterson. "We tell you the price up front, so you won't have to guess or worry about overpaying for your trip."
Users of the service will enter the details of their itinerary and then receive an available fixed-price discount fare. Prospective travelers are not required to submit their credit card data before making a purchase. However, the carrier remains anonymous during the pricing process, and users cannot choose a specified airline or flight.
The company said that by cloaking the identity of the carrier until a ticket is purchased, the carriers will be able to discount more aggressively than they can in traditional channels.
Hotwire.com did not disclose the number of discount seats it will offer on flights, apparently hoping other airlines will sign on to offer unsold seats in the coming months. Hotwire.com also said it will expand its offerings to include rental cars, hotels and international travel later in the year.
Turbulent Times
The entry of Hotwire.com into the increasingly crowded field of online travel comes at a particularly turbulent time. Last month, Priceline.com, which spearheaded the Web discount travel sector, suffered an acute downturn in its valuation after its third-quarter estimates failed to meet Wall Street's expectations.
Although the company has experienced rapid growth, it has been hit with a spate of negative publicity and customer complaints. Priceline stock is currently trading at 52-week lows, having plummeted nearly 90 percent this year.
In addition, Orbitz.com, which is backed by a consortium that includes many of the same partners as Hotwire.com, is the subject of ongoing investigations by the U.S. Department of Transportation (DOT) and the U.S. Department of Justice.
The agencies began examining Orbitz's business plans after critics complained that the mega-site would restrict access to flight information and low-priced tickets, ultimately forcing out competition.
Originally set to launch this year, Orbitz will officially launch its site in June 2001.
Niche Takes Off
Despite these woes, industry analysts remain bullish on the future of online travel sales.
According to the July 2000 PhoCusWright Yearbook Update, online travel is the fastest growing e-commerce industry, expected to mushroom from $7 billion in 1999 to over $20 billion in 2001.
Forrester Research forecasts that online travel sales will climb to $29 billion by 2003, a four-fold increase from last year's level.