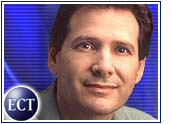 Beleaguered name-your-price e-tailer Priceline.com (Nasdaq: PCLN) announced Thursday that it is cutting 16 percent of its workforce and that its chief financial officer is departing.
The company also announced third quarter losses of $2 million (US$), or a penny per share, and predicted that revenues will decrease in the fourth quarter.
"It's hard for me to say I see any positives immediately," Morningstar.com analyst David Kathman said during an interview with financial multimedia network ON24. Kathman added that Priceline will face "an uphill battle" in order to turn things around.
After closing up almost 66 cents at $6.84 in regular trading Thursday, Priceline shares fell $2.04, or nearly 30 percent, to $4.81 Friday morning.
Personnel Shakeup
Priceline said that CFO Heidi Miller is leaving "to pursue opportunities and apply her talents in a more established business environment."
Priceline had lured Miller away from Citigroup in February and, according to Kathman, "her presence gave Priceline some much-needed credibility on Wall Street." Senior vice president of finance Bob Mylod will replace Miller.
The Norwalk, Connecticut-based company believes that cutting 87 of its 535 employees and a change in its compensation program will result in "restructuring and other charges that are not currently determinable and that will be recognized in the fourth quarter."
Losses Meet Expectations
Priceline's third quarter losses of $2 million met analyst predictions and look better when compared to the company's loss of $12 million, or $0.08 per share, for the same period last year.
However, the newly reported numbers exclude some warrant charges, option related payroll taxes and a $189 million write off of the company's warrants in WebHouse Club, a Priceline affiliate that went out of business last month.
Revenues for the period were $341 million, an increase of 124 percent over the same period last year. Priceline's primary revenue source continues to be airline ticket sales. The company sold approximately 1.29 million seats during the quarter, compared to approximately 624,000 during the same period last year.
Fourth Quarter Charges
The company also said Thursday that it had amended its warrant terms with Delta Air Lines and, as a result, will take a non-cash charge of approximately $9 million in the fourth quarter. It was reported in October that Delta was seriously considering selling its stake in Priceline.
Priceline also predicted that continued "effects of negative news and other factors" will cause October ticket sale revenues to be approximately 20 percent below September's results.
"While demand for tickets has stabilized over the last few weeks, given seasonal factors, we expect revenues to decrease sequentially in the fourth quarter," Priceline.com president and chief executive officer Dan Schulman said.
Non-Air Revenues Grew
However, there are signs that Priceline's diversification strategy is making a difference. The company said that revenues from non-air services grew by $10 million, or an average of 20 percent, over second quarter 2000 revenues and by 255 percent over Q3 1999.
Non-air revenues were 19 percent of the company's third quarter revenues, compared to 12 percent a year ago. The company also said that it had positive cash flow for the second quarter in a row.
"While we are disappointed in our airline ticket sales revenue for the third quarter, we believe that the business made solid progress on several fronts," Schulman said. "Our total customer base grew to eight million. Repeat usage also grew, with slightly more than half of all purchase offers coming from repeat customers."
Name Your Own Woes
Priceline has been pummeled with reports of trouble over recent months. Among the company's most public embarrassments was the news in September that its membership in the Connecticut Better Business Bureau was being yanked and that Connecticut attorney general Richard Blumenthal was investigating the company after receiving more than 100 complaints.
The company has also been hit with several class action suits from investors alleging that company directors misled shareholders about Priceline's growth potential.
Further marring the company's public face, it was publicly revealed that William Shatner, its spokesperson and a stockholder, never logs on to Priceline to purchase airfare because he always flies first class.