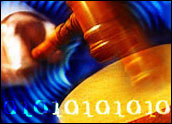 Jay Walker, founder of embattled e-tailer Priceline, is under investigation by the Connecticut Attorney General for alleged violations of state and federal employment law by his privately held company Walker Digital.
Connecticut Attorney General Richard Blumenthal told the E-Commerce Times that he is investigating claims that Walker Digital, which owns the rights to the "name-your-own-price" software used at Priceline, laid off 100 of its 125 employees at its Stamford, Connecticut headquarters last week without giving proper notice.
The layoffs reportedly came after the company failed to raise US$35 million to $50 million in venture capital.
"We have not been contacted" about an investigation, Walker Digital spokesperson Kevin Goldman told the E-Commerce Times. However, Goldman added that if notified, the company would be happy to cooperate with the Attorney General's office.
Blumenthal said his office does not notify companies that are under investigation.
Employment Primer
Federal employment law requires companies with 100 or more employees to give 60 days notice to employees when they lay off 33 percent or more of their workforce.
Blumenthal said that his office had received several complaints that former Walker Digital employees were laid off with no notice. He said issues being investigated also include severance pay and whether or not health insurance coverage was cancelled without proper notification.
Blumenthal said he expects to have some preliminary findings by the end of next week.
Goldman declined to comment on how much notice Walker Digital employees were given prior to their termination, citing the fact that the firm is "a privately held company" and that he is not obligated to answer.
Potential Penalties
Goldman also would not provide details of who was given severance pay, saying only that severance pay was given to "appropriate" employees. However, published reports indicate that Walker Digital gave severance pay to employees who had been with the company for more than a year.
If the Attorney General finds evidence of any wrongdoing, a court could require Walker Digital to pay "back pay, severance pay, and civil penalties," according to Blumenthal, who declined to speculate on how much civil penalties could amount to.
To make matters worse for Walker Digital, some former employees have reportedly obtained counsel and are considering litigation.
Digital Doubts
Concerns over Walker Digital's restructuring led Priceline to announce last week that it was taking an unspecified fourth quarter charge because it had doubts that Walker Digital could meet its obligations to pay certain legal fees.
According to a November 22nd SEC filing, Walker Digital had agreed to reimburse Priceline for "a portion of legal expenses incurred in connection with certain patent litigations, and indemnify the Company for damages, liabilities and legal expenses incurred in connection with litigation involving Marketel International, Inc."
However, due to the restructuring, Priceline said that it "currently believes that Walker Digital's ability to fulfill its obligations under these agreements is in doubt."
Walker's Woes
The Attorney General's investigation into Walker Digital is just the latest misfortune to hit companies founded by Walker. In the past several months, five companies founded by Walker — Atlantis Interactive, High Circle, Pulse 123, and Priceline affiliates Webhouse Club and Perfect Yardsale — have shut down.
Even Priceline has not been immune to Walker's woes. The company has been hit with a string of setbacks in the last several months, including the resignation of its high profile chief financial officer Heidi Miller, the layoff of 16 percent of its staff, and the loss of its membership in the Connecticut Better Business Bureau.
Additionally, the attorney general's office is investigating Priceline because it has received more than 100 complaints from unhappy customers.
Such troubles have not gone unnoticed in the e-commerce world. Wednesday, the company was voted "most likely to fail in the next five years" by 73 percent of the 150 top executives attending Chief Executive e-conference.