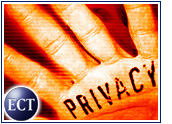 State investigators in New Jersey have subpoenaed records from Toysrus.com as part of an ongoing investigation into the online toy store's privacy practices, the Associated Pressreported Monday.
The Paramus, New Jersey-based brick-and-click toy retailer confirmed that investigators from the New Jersey Division of Consumer Affairs have sought company records relating to the use of customer information gathered online.
According to published reports, the investigation has been spurred on by as many as a dozen lawsuits, filed across the U.S., alleging that Toysrus.com shared personal consumer information with third parties — in apparent violation of the company's stated and published privacy policy.
The suits, filed in California, Texas and New Jersey, reportedly might achieve class-action status.
Company Cooperating
Spokeswoman Jeanne Meyer of parent company Toys 'R' Us said the retailer is cooperating with the investigation and has turned over "thousands of documents" requested by investigators. She said the company would have no additional comment until the matter is resolved.
The state investigation specifically targets how the company used cookies, and whether Toysrus.com violated its own stated privacy rules, which could constitute consumer fraud under New Jersey law.
Data Practices Questioned
Others have charged that Toysrus.com acted unfairly in its use of consumer data. The first of several lawsuits addressing the issue was filed in July in San Francisco and focused on the use of Coremetrics, a California Internet marketing firm that creates individual profiles of online consumers.
At issue is whether behavior was being watched not only at the Toysrus.com site but also at other Web sites, as well as who had access to the information gathered.
Coremetrics executives have said the suits are without merit because the company, which Toysrus.com severed ties with over the summer, merely tracks and stores information on behalf of clients.
Aggressive Actions
New Jersey has been at the forefront of many online privacy cases. State officials were among the first to join a class-action lawsuit against controversial Web advertising firm DoubleClick.
The Toysrus.com inquiry reportedly comes amid a larger plan to tackle the improper use of cookies among companies doing business in the state. The state is also taking part in a sweeping effort aimed at cracking down on online fraud and scams during the holiday season.
Frying Pan and Fire
Despite of a reported third quarter loss of US$65 million, or 32 cents per share, Toysrus has projected strong holiday sales this season. In August, Toysrus inked a co-branding deal with Amazon, at a reported cost to Toysrus of $118 million.
Amazon has had its own share of privacy-related problems. In September, the e-tail giant announced a controversial new privacy policy to its 23 million customers. A week later, leading privacy groups Junkbusters and the Electronic Privacy and Information Center (EPIC) severed ties with the e-tailer's bookstore.
More recently, those same groups formally asked the Federal Trade Commission to investigate how the company collects and uses personal information.