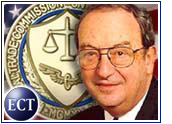 The U.S. Federal Trade Commission (FTC) filed a complaint Monday in federal court to block financially strapped e-tailer Toysmart.com from selling customer data to help pay off its debts.
In a unanimous vote during a closed session Friday, the five FTC commissioners resolved to seek a preliminary injunction against Toysmart.com to stop the online toy retailer from selling the names, addresses and buying habits of thousands of consumers who used the site before the company stopped taking orders last month.
"Even failing dot-coms must abide by their promise to protect the privacy rights of their customers," said FTC Chairman Robert Pitofsky. "The FTC seeks to ensure these promises are kept."
In May, the online toy retailer — whose backers included the Walt Disney Company — announced that it was closing its doors after months of uncertainty.
Shakeout Story
Although Toysmart.com was named the second-largest gainer by online tracking firm Media Metrix during the busiest shopping week in December 1999, the Waltham, Massachusetts-based company ended the holiday season well behind market leaders eToys and Toysrus.com.
Toysmart.com is one of many companies on a rapidly growing list of e-commerce retailers that have succumbed to the so-called e-commerce shakeout.
Earlier this year, UK-based Boo.com hired KPMG to sell off its assets after burning through $120 million (US$) in just a year. In another high-profile failure, Craftshop.com, a Connecticut-based retailer of craft supplies backed by CMGI, officially filed for Chapter 11 bankruptcy protection.
Setting Precedent
If the FTC is successful in its efforts against Toysmart, many privacy advocates believe that other failing e-tailers will be prevented from cashing in on customer data. Additionally, many observers expect that such government action will strengthen the case for passing of strict online privacy legislation.
The FTC was urged to intervene in the case by TRUSTe, a company that provides a seal to e-tailers that abide by certain privacy guidelines.
Disney currently owns 60 percent of Toysmart.com stock and controls three of its five board seats, according to records. Disney invested about 20 million in cash in Toysmart.com and provided the e-tailer with $25 million in advertising.