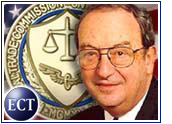 Despite the vociferous demands of consumer advocates for new laws to protect the privacy of online shoppers, the U.S. Federal Trade Commission and the Department of Commerce (DOC) have endorsed an industry self-regulation plan developed by the Network Advertising Initiative.
"NAI constitutes over 90 percent of the network advertising market," said Jodie Bernstein, director of the FTC Bureau of Consumer Protection. "Legislative action is (still) necessary to ensure the remaining 10 percent will comply with the protection outlined in NAI's principles and guarantee full compliance by all Web sites."
The NAI membership includes 24/7 Media, DoubleClick, and AdForce, who worked with the FTC to develop the "Self-Regulatory Principles for Online Preference Marketing" (OPM).
DoubleClick has been at the center of the online privacy controversy since its practices involving the use of "cookies" to track the personal information and movements of online shoppers met with harsh criticism and several legal actions earlier this year.
Inside the Deal
Under the OPM agreement, advertisers will display prominent notices on the Web about when and how they are collecting data from visitors, and the visitors will have right to opt out of being profiled.
Consumers will also be given reasonable access to personally identifiable information and associated data. The NAI companies also agreed not to use consumers' medical or financial information for online marketing purposes, and agreed not to use Social Security numbers or genders for profiling.
"Once fully implemented, these principles will constitute an effective and meaningful self-regulatory approach to privacy protection," said U.S. Secretary of Commerce Norman Y. Mineta.
Privacy Advocates Weigh In
Privacy advocates are not pleased with the FTC announcement. Marc Rotenberg, president of the Electronic Privacy Information Center (EPIC), sent a letter to the U.S. Senate Commerce Committee objecting to the FTC approval of NAI's proposal, and expressing continuing concerns about online consumer profiling.
According to EPIC, the proposal not only fails to provide adequate safeguards for Internet users, but also encourages the development of invasive data collection practices.
Orson Swindle — the only FTC commissioner to vote against the agency's approval of the OPM agreement — reportedly said he opposes the plan because it is unclear whether self-regulation can actually work. Swindle cited the failure of self-regulation efforts in the telecommunication industry to stop "slamming" — the practice of switching consumers' long-distance carriers without their approval.
Swindle was also one of only two FTC commissioners to vote against the recent agreement allowing failed e-tailer Toysmart.com to sell its customer database in a bankruptcy proceeding.
Invisible Profiles, Identified People
Online advertising companies use "cookies" to profile individual consumers and deliver targeting banner advertising based on their profiles. The practice is invisible to consumers and the information gathered is often anonymous.
However, the practices that have drawn the most fire from privacy advocates involve linking consumer profiles with personally identifiable information. This consumer data can be combined with information collected directly from consumers through surveys and registration forms.
DoubleClick Trigger
Most observers agree that the online privacy brouhaha started in earnest with DoubleClick's acquisition last year of Abacus Direct Corp., a direct marketing services company that maintained an extensive database to catalog the purchasing power of American households. Internet privacy advocates objected to the acquisition at the time, saying it would lead to the exploitation of online users and gross invasions of their privacy.
DoubleClick maintained that it gathered information solely to provide advertising targeted to individual tastes and that its "opt-out" feature allowed users to disconnect the company's cookies.
However, activists said the opt-out feature was hidden from view, and that DoubleClick was tracking millions of consumers' anonymous spending habits and connecting that information to the personal information in the Abacus database without proper disclosure.
In February, Michigan attorney general Jennifer M. Granholm launched an investigation into DoubleClick's practices. The FTC also launched an investigation in February.