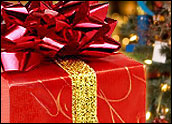 Possibly indicating a consumer cooldown in the e-tail arena, onlinespending during the week following the Thanksgiving holiday topped out at about US$1.3billion — representing just a 50 percent increase over last year's figures for the same period — according to a new study released Monday by Goldman Sachs and PC Data.
While most traditional retailers would be overjoyed to experience 50 percent growth over ayear-to-year period, the analysts seem to be concerned by the slower rate of growth in week-to-week sales.
Researchers found that Internet transactions during the week after the holiday, from November 27th to December 3rd, saw only a slight rise from the $1.29 billion insales during Thanksgiving week.
By comparison, this year's Thanksgiving weekspending skyrocketed 140 percent over the same week in 1999.
Still, the report said that holiday online sales remain"on track," indicating that the e-conomy continues to be quite robust.
"As expected, growth tapered during the post-Thanksgiving shopping lull,"said Goldman Sachs analyst Anthony Noto.
"While we anticipate lower year-over-year growth for the next three weeks,"Noto added, "we believe the significant strength in the early weeks of theseason due to promotion activity will result in holiday sales up to 1.5 to2 times 1999 levels."
Early Start
The report also found that consumers learned their lesson from last year'sglitch-ridden online holiday shopping season and began making theirpurchases earlier this time around. The early start is one possible cause contributing to the post-Thanksgiving slowdown.
"Compared to 1999, we've seen a higher spending volume spread across severalweeks instead of the dramatic spike we saw at the beginning of December lastyear," said PC Data Online analyst Cameron Meierhoefer.
A separate study from PC Data Online released earlier this month foreshadowed the current statistics. It found that online consumers gravitated to bige-tail sites throughout November in order to avoid the merchandise shortages of 1999 and ensure that their purchases are in stock and delivered on time.
Categories Surge
In the most recent study, researchers saidthe categories that experienced an increase fromthe previous week were apparel, toys and electronics — categories often cited as online favorites.
According to the study, spending on clothing surged to $182 million from $135million the previous week. Similarly, toy sales were strong, spiking $16million from the previous week to $133 million. The report also found that 89 percent of toys and children's sales were gift purchases.
Electronics also experienced robust sales, climbing to $122 million from $95million.
Yet To Come
Researchers said that e-tailers should not be discouraged by the slim weeklyincreases in online spending.
Less than one in five of those surveyed for the report said they hadcompleted their holiday shopping, while 58 percent said they have started.At the same time, nearly a quarter of the respondentssaid they have yet to begin making their purchases.
"The highest online spending during the 1999 holiday was recorded during thesecond week of December," said Meierhoefer.
Meierhoefer noted that industry analysts will get a clearer picture of thisyear's online spending levels when the critical figures for the week endedDecember 10th are tallied.
About the Survey
To gather data for its weekly study of holiday online buying practices andtrends, PC Data Online and Goldman Sachs surveyed nearly 3,200 home-basedInternet users about their purchases during the week following Thanksgiving.