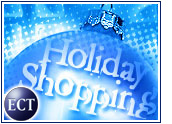 Computers passed books to become the No. 1 e-tail category this week as e-commerce Web sites enjoyed a record number of holiday visitors, according to the latest tracking survey from Jupiter Media Metrix.
The Media Metrix Online Shopping Index for the week ended December 3rd was 31.2 percent higher than the same week last year, rising to 35.6 millionunique visitors.
The index, which measures home and work Web visits toalmost 400 e-tail sites and 18 retail sub-categories, registered fastergrowth than the entire Web during the same period, as overall Internet userose 12.0 percent, Media Metrix said.
Computers on Top
Computer sites saw an average of 2.3 million unique visitors each day, with three of them — HP.com, McAfee.com and Symantec.com — listed among the top five gainers for the week.
"Despite recent fears about slowing PC sales, computer-retail sites areamong the most popular online destinations this holiday season," said MediaMetrix measurement analyst Anne Rickert.
Rickert commented that holiday discounts on itemsincluding computers, software and digital cameras are luring buyers.
A number of computer makers, including Dell, Apple and Gateway, have warned in recent days that slower than expected holiday sales will lead to weakresults for the current quarter. Promotional deals aimed at attractingcustomers cut into revenue, the companies said.
Holiday Surge
Overall, online sales appear to be strong this holiday season. A study published lastweek by Goldman Sachs & Co. and PC Data Online found that shoppers plan tobuy a greater percentage of their holiday gifts online than they did lastyear, although stores remain the preferred venue.
A separate study from Goldman and PC Data found that Americans spent US$1.3 billiononline during the week that included Thanksgiving, up 140 percent over thesame week last year.
Goldman analyst Anthony Noto predicts holiday e-tail sales will end uptotaling double last year's levels. Other projections range from $9 billionfrom the Yankee Group to $12.5 billion from eMarketer and the NPD Group.
Thanksgiving Record
Media Metrix's own index last week, including the four-day Thanksgiving weekend, registered a record 35.2 million unique visitors to e-tail Web sites, a 40.3 percentincrease over a year earlier.
In this week's index, Internet powerhouse Amazon.com, with an average of 1.6 million uniquevisitors each day, and loyalty-reward site Mypoints.com, with 1.4 million,were the top two retail sites for the second week in a row, Media Metrixsaid.
Toys also entered the top ten this week, with eToys.com landing the No. 9spot with 338,000 average daily unique visitors. There were no toy sitesamong the most trafficked last week.
The biggest gainers this week were fragrances/cosmetics and food,posting week-over-week increases of 35.4 percent and 31.3 percent,respectively.