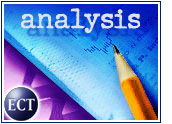 Within the next month, a mess of online holiday sales figures will be released, to be scrutinized like tea leaves for signs of e-commerce's ultimate fate.
However, no matter how those numbers read, 2001 is shaping up as a year where traditional storefront and catalog retailers firmly take control of the online turf from pure-play e-tailers. The home-field advantage in e-commerce is disappearing.
There is a twist, though. Some analysts believe that even as the number of pure plays dwindle, e-commerce could still benefit in the long run.
"I think that's going to be a big advantage [for e-commerce]," eMarketer senior analyst Darren Allen told the E-Commerce Times. "We're going to see more consumers adopt e-commerce as a result because the consumers are going to win as a result of this. They're going to have a more convenient online and offline shopping experience. The brick-and-mortars are going to bring the best of both worlds."
Diversity Carries the Day
Gartner Group research director Robert Labatt also said that businesses thatcombine storefront, catalog and Internet approaches to sales will thrive.
"The reality is that 2001 is going to be a year of great consolidation and outright failure of certain Internet models, but it will also be a the birth of the multichannel model in a robust way," Labatt told the E-Commerce Times.
"The reason [the hybrids] are going to prevail is that they already have customers, they already have a brand and they already have the system they need to drive Internet retail," Labatt said.
Pure Plays on the Run
Not all of the forecasts for pure plays are grim. An eMarketer report said that "established pure plays that have built strong brand recognition, lots of loyal customers and an expanded scope of geographic and demographic coverage will be profitable" by the second quarter of 2001.
On the other hand, that category does not figure to include a large number of businesses.
Meanwhile, eMarketer predicted that in 2001, brick-and-click retailers will "dominate the online marketplace" with a 68 percent share of total U.S. business-to-consumer (B2C) dollars, compared to 52 percent in the year 2000.
"By year-end 2001, leading clicks-and-mortars will acquire as many as 70 percent of the failing dot-coms and their customers and infrastructure," eMarketer said.
Old Names Reborn
As a result, sooner than later, the biggest name on the Web might no longer be Amazon. Though some major companies that were born on the Web may be reducing the ranks of weaker pure-play rivals with relative ease, hybrids are providing competition in increasing numbers.
A November report by PC Data Online said that several traditional retailers — including JCPenney.com, Sears.com and Spiegel.com, which have 336 years of offline company history among them — had cracked the top 20 rankings of most popular online sellers. In a subsequent report, released Friday, JCPenney.com rose to the No. 2 spot, albeit still far behind Amazon.
With Walmart.com's debut on the most recent rankings, more than half of the top 20 e-tailers on PC Data's list have an established physical presence, putting a great deal of pressure on the pure play leader.
"Traditional offline retailers like JC Penney, Sears, Best Buy and Wal-Mart are demonstrating impressive gains on the Internet this holiday season, but Amazon.com continues to raise the bar," PC Data analyst Cameron Meierhoefer said.
Who Shops Where
The stakes for pure-play e-tailers and brick-and-clicks are high, because even though most commerce continues to be done offline, more customers are turning to the Net for shopping.
Numerous studies have found that online purchasing accounts for less than 1 percent of total U.S. retail sales. In one sense, that means that online shopping is still a fad.
However, if e-tail is a fad, it is a consistently growing one. For example, a study by the U.S. Census Bureau said that third quarter online sales in the U.S. increased 15.3 percent over the previous quarter, while total retail sales declined slightly.
In short, no end to e-commerce's growth spurt is in sight — except, perhaps, in the event of a December sales, customer service or delivery catastrophe.
Happy New Year?
And so we come, full circle, back to the holiday shopping season. Before the final presents are unwrapped, e-commerce will already be anticipating the grades for its biggest test to date.
"Everyone wants their figures January 1st," Labatt said. "The reality is we've seen from the federal election it might not be good to have results that quickly."
Those wanting to sneak a peek at the answers have reason for hope. According to a survey by the National Retail Federation and Forrester Research, e-tail saw a rise in sales in October, thanks in particular to boosts from toys, consumer electronics and computers.
Furthermore, Internet measurement firm Jupiter Media Metrix reported that e-tailers received 35.2 million unique visitors during Thanksgiving week, a 40.3 percent increase over the same period in 1999.
Until the final data arrives, plenty of work remains to be done for pure plays and brick-and-clicks alike. However, pure plays may have the additional task of determining how they are going to survive in a multichannel world.