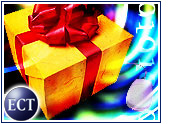 Further signifying that e-commerce continues to make headway in the traditional retail arena, a study released Thursday by Forrester Research forecasts that consumers will spend at least US$36 billion on gifts purchased online by 2005.
As part of its report, "Pulling in Online Gift Buyers," the Cambridge, Massachusetts-based firm also found that Internet gift shoppers are placing increasingly sophisticated demands on e-tailers.
"Having the right product mix is one thing, but it won't do any good if the consumer doesn't think of the site when going to buy online," Forrester analyst Christopher M. Kelley said. "Consumers are demanding the perfect gift, at the right time and hassle-free.
"In this competitive landscape," Kelley added, "e-tailers must deliver on this promise or perish."
Happy Givers
According to the study, roughly 20 million e-shoppers have taken to the Internet to buy gifts, spending $68 on average per purchase.
Of those surveyed for the report, 57 percent of online consumers said they have bought presents via the Web. In addition, 84 percent of online gift buyers said they were satisfied with their most recent Web gift purchase.
In order to capitalize on this demand, Forrester advised online marketers to further research the kinds of goods Web consumers are seeking, as well as the factors that drive gift purchase satisfaction on the Net.
Profiling the Customer
For instance, the report found that while apparel and books are usually the most popular items for every gift-giving occasion, certain holidays and events call for specific presents: toys for child-oriented celebrations, books for adults' birthdays, and flowers for Mother's and Father's Day.
Forrester also said that shoppers who are in the market for low-risk and cheaper items head directly to the one site at which they are most used to shopping. However, when it comes to making big-ticket purchases, consumers are likely to comparison shop for the best price before buying.
Don't Be Late
Although garnering insight into consumer habits is important, customer satisfaction is the greatest determinant in e-tail success, the report said.An overwhelming 81 percent of those surveyed for the study said on-time delivery is a top priority.
In addition, search engines that render incomplete, incorrect or outdated results, as well as confusing product categories, are sure-fire ways to drive consumers elsewhere, said Forrester.
Such problems undermine the primary time-saving advantage of online shopping overall and for presents in particular, the study noted. Sixty-two percent of respondents said that they cut down on the time spent making gift purchases when buying via the Web.
To compile data for its study, Forrester conducted a mail survey of more than the 10,500 American and Canadian online households. Researchers also drew on findings from its Technographics 2000 North American Benchmark Study, which surveyed almost 90,000 North American households.