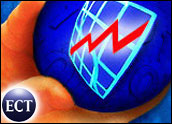 Further indicating that e-commerce is continuing to transform the traditional retail landscape,a new study released Tuesdayby business services firm Ernst & Young shows thatAmerican consumers will make nearly a third of their total holiday purchasesover the Internet in the coming weeks.
The company also found that the number of consumers doing at least half oftheir buying online will rise from 9percent in 1999 to 20 percent this year. Conversely, only 13 percent of consumershave no plans to conduct online transactions, a drop from last year's figureof 40 percent.
"This is a very interesting online holiday season — strong at the upper andlower ends of the price spectrum and very promotional for most retailers inbetween," said Ernst & Young global director of retail and consumer productsStephanie Shern.
Shern also noted that total online retail sales in the U.S. for the entireyear will probably hit the US$38 billion mark, not including travel andautomobile sales made on the Web, while volume for the holiday season will be around $11 billion.
Brick-and-Clicks Ahead
The Ernst & Young study is the latest in a string of holiday shoppingreports that point to the growing influence of bricks-and-clicks in thehighly competitive e-tail arena.
It found that the emerging trend of the year is the recent shift awayfrom the pure-plays and toward retailers that sell in multiple channels — online, by mail order and on the Web.
"We see the e-winners as those companies who are implementing a multi-channelstrategy so consumers see a consistent and integrated brand at the cornerstore or the online mall," said Shern.
Although those surveyed ranked Amazon.com as the most popular e-tailer,Ernst & Young predicts that known brand leaders such as JCPenney.com,WalMart.com and BestBuy.com will claim a larger share of the online purchasepie leading into 2001.
Favorite Buys
This holiday season, online consumers will also shop in broader categoriesthan before, Ernst & Young said.
While books, computers and music remain the perennial purchasing favoritesamong e-shoppers, apparel, health and beauty products are postinga strong showing this year, despite the sectors' problems in gaining a foothold in theonline market.
Fashion buys are even more popular than toys this year.More than a third of those surveyed said they plan on buyingclothing online, compared to 28 percent who will be making toy purchases.
Time Demands
Despite the widely-publicized infrastructure and fulfillment problems thatplagued e-tail fledglings and heavyweights alike last holiday season,consumer dissatisfaction in the e-commerce market has not waned, said Ernst& Young.
The primary driver of e-commerce's popularity is the time-saving factor, with 62percent of respondents citing that as a primary advantages of buying via theWeb.
In addition, the hustle and bustle of brick-and-mortar retailers during theholidays is too trying for many consumers. More than half of the survey respondents said they did not like dealing with the rush of crowds in stores. Other reasons for purchasing online included more convenient shopping hours and less driving.
Glitch-Free Convenience
However, researchers advised e-tailers that the best recipe for success is to meet consumer demands and sidestep glitches.
"To win in online retailing, companies must excel in meeting or exceedingcustomer expectations and improving the customer relationship throughworld-class operations and merchandising," said Shern.
As part of its fourth annual Global Internet Retailing report, researcherssurveyed roughly 1,400 U.S. consumers about their holiday e-tail habits andhistory.