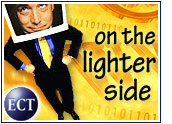 For those of you who think that there has been nothing funny about the struggles in the dot-com world this year, the E-Commerce Times begs to differ.
As we reach the halfway point in a year where nothing has been certain in e-commerce except uncertainty, indulge yourself with a selection of profound absurdities, or absurd profundities, that will make you stop and think and hopefully laugh. Or maybe cry.
"For most of the Net stocks, we're seeing a dead cat bounce."
– Morningstar.com analyst David Kathman, on whether an uptick in the Nasdaq hinted at a broader rally, January 22nd.
"Internet users have vengeance in their hearts."
– Susannah Fox, director of research at the Pew Internet & American Life Project, on the trouble companies are asking for when they break their own privacy policies, January 23rd.
"Please realize, I make no warranties as to the condition of the soul. As of now, it is near mint condition, with only minor scratches."
– University of Washington student Adam Burtle, who attempted to sell his soul on eBay (Nasdaq: EBAY), February 9th.
"There is no right for anyone to wantonly take sand, never mind to sell it on the Internet."
– Atlantic City Beach Patrol deputy chief Rod Aloise, according to published reports, after city officials asked eBay to stop the online auction of a pound of Atlantic City beach sand — which sold for 99 U.S. cents, plus $4 shipping and handling — February 9th.
He Shoots, He Scores!
"Certainly by now, that's where the hockey stick broke."
– Senior analyst Ken Cassar of Jupiter Media Metrix (Nasdaq: JMXI), snappily summing up what happened to e-commerce at the end of 2000, after what had been a sustained period of "hockey stick-shape growth," February 15th.
"The company strongly encourages anyone considering an investment in these securities to consider its determination that they are worthless."
– Subtle statement to the press by eToys, after the e-tailer announced it was going to file for bankruptcy, February 27th.
"We've got piles of moolah. People just don't pay attention."
– Spokesperson Bill Curry of Amazon.com (Nasdaq: AMZN), telling the Associated Press that rumors of impending bankruptcy for Amazon were false, February 28th.
"Six months at the helm of a sinking ship does nothing to improve one's reputation."
– Dot-com layoffs guru John Challenger, remarking on the difficulties that struggling tech firms have in attracting new chief executive officers, March 2nd.
Do You Believe in Mir-acles?
"I found this bolt laying next to my van when I left for work this morning. I'm pretty sure it wasn't there when I got home from work last night, so I think the only logical explanation is that some of the Mir debris did come down over Indiana."
– An eBay auctioneer, purporting to sell actual detritus from the crash of Russian space station Mir, March 26th.
"I had more money than I knew what to do with and there just were not enough hours in the day, so I want to take a breather and enjoy the beauties of life."
– ClickZen.com chief executive officer Ruchit K. Shah, on his decision to retire — at the age of 17, March 30th.
"Thanks for your interest in Jupiter Media Metrix's research. We are sorry but given our inadequate resources, we cannot meet your deadline."
– A rather humble e-mail from Jupiter Media Metrix, responding to a request from a reporter to pursue a press release that the research firm itself issued, May 1st.
"We love the catalog division. They are our favorite best buddies."
– Bill Bass, senior vice president of e-commerce and international for Lands' End (NYSE: LE), on the synergy between the retailer's online and catalog operations, May 23rd.
Not a Match.com Candidate
"The biggest barrier is that most people don't want a relationship with me."
– Booksamillion.com president Terrance Finley, on the challenges of implementing targeted e-mail, May 23rd.
"A purchase of 200 copies of 'Journey's Greatest Hits' would cost a customer $200 in [shipping and handling], while CDNow would only incur about $28 in shipping cost."
– Jupiter Media Metrix, in a report on e-tailer shipping and handling costs, perhaps revealing the depth of its love for "Don't Stop Believin'," June 11th.
"This was somebody who found a flaw in a Web site he loved, and he thought he'd offer them a chance to give him a reward. He didn't mean any harm, and he didn't intend to come on like the Mafia."
– Jonathan L. Miller, co-counsel for Robert Holcomb, explaining to Newsbytes why Holcomb allegedly demanded a new Volvo station wagon and other ransom payments in exchange for keeping silent about security flaws he discovered at a Web site operated by Audible, June 12th.
Giving Witness
"Extortion is extortion, even if it's in the form of a Volvo station wagon."
– Audible spokesperson Jonathan Korzen, on the Holcomb case, June 12th.
"I don't believe relying on the naivete of customers is a long-term business model."
– Jupiter Media Metrix analyst Jared Blank, expressing disapproval of the fact that Priceline (Nasdaq: PCLN) makes money because a certain percentage of customers overbid on airfare and pay more than they would through other sites, June 14th.