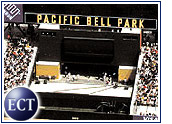 In the midst of a losing season on the business pages, can high-tech companies swing a ninth-inning rally on the sports pages?
Opening Day for major league baseball is upon us, meaning that All-Stars like Pedro Martinez and Sammy Sosa will not only roam the hallowed grounds of Fenway Park and Wrigley Field — but Qualcomm Stadium and Network Associates Coliseum as well.
In recent years, several tech firms have signed agreements — for as long as 30 years and in excess of US$100 million — to obtain the naming rights for major league baseball stadiums. Amid a sluggish economy, wobbly consumer confidence and of course, the dot-com shakeout, it is natural to wonder whether money spent to sponsor a non-tech pursuit, such as baseball, is money well spent at all.
"To some degree, they're taking a shot in the dark," Susan Hofacre, professor of sports management at Robert Morris College, told the E-Commerce Times.
However, while analysts and observers are unable to quantify the extent that naming rights deals boost a company's profile, no one questions that businesses are getting tangible value for their buck.
"In traditional kinds of advertising, it's difficult to stand out," Hofacre said. "What a stadium naming deal does is that it almost automatically makes you stand out. Now is it worth the $15 to 25 million dollars that companies spend? That becomes a little more difficult to measure."
Bucks and Bats
Naming rights deals have a wide variety of dollar values and terms, ranging from the five-year, $6 million agreement that network software company Network Associates has with the Oakland Athletics, to the 30-year, $100 million pact between the Houston Astros and Enron, a provider of energy, broadband and online marketplace services.
The dollars can be intimidating, particularly for investors. Smith College professor of economics Andrew Zimbalist said that stock prices "invariably" go down after a company announces a naming rights pact.
"If you look at the movement of stock prices … you would say it's a very bad deal," Zimbalist said. "But it's very hard to argue there's a direct causality."
Mysterious Ways
According to Zimbalist, there are too many factors involved in naming rights deals to truly understand their value, such as the opportunity for the company to market its wares using a baseball team's logo.
"This is not a scientific lab, where we can control the heat and temperature and light," Zimbalist said. "We can't control all these variables and isolate one thing."
As a result, determining the value of naming rights is not much different from determining the value of a baseball card being auctioned on eBay. Gene DeMark, an information, communications and entertainment partner at consulting firm KPMG, said that cities "pretty much" price naming rights at what the market will bear.
"I'm aware of some situations where several companies, all of which were well known, were actually bidding the price up [for naming] a sports arena," DeMark said. "The municipality did a pretty good job of playing them off one another."
View from the Cheap Seats
Conversely, some situations can foster a buyer's market. Baseball Weekly editor Paul White said that the relatively small scale of Network Associates' deal in Oakland reflects the tenuous status that the stadium has with the Athletics.
"There's no real long-term commitment there because you've got a baseball team that would dearly like to get out of there," White said. "Whereas if you're an Enron, you don't have to worry about this team going anywhere. And when you get a ballpark that's an attraction in itself, you're probably safe."
From other perspectives, the naming rights deals can be bargains. Global communications firm Pacific Telesis is paying an average of $2.1 million per year for 24 years for the rights to call the San Francisco Giants' new home field PacBell Park. Seems like a lot of money, even for a full year's worth of marketing — until one remembers that companies pay almost the exact same price to advertise on the telecast of football's Super Bowl — for 30 seconds.
"Most of the companies that are doing this have taken a chunk out of their brand awareness and advertising budgets, and have felt there is clearly a long-term value," DeMark said.
Who's on First? 3Com
3Com, which turned San Francisco's Candlestick Park (the former home of the Giants) into 3Com Park in 1996, was one of the first examples of a tech company broadening its profile through stadium sponsorship, surely if slowly.
"I don't think anybody knew who 3Com was," Hofacre said. "But now, pretty much everyone across the U.S. has heard of 3Com. They may not know exactly what it does, but they know it has something to do with tech."
De Mark added that businesses have more incentive to pursue naming rights deals if they are based in the same area as the stadium, to project the image of "a good corporate citizen."
Dell Goes Deep
This is true even for minor league baseball. The Round Rock Express of the Texas League, for example, play at Dell Diamond, thanks to a naming rights agreement with the local computer titan.
Potential for a publicity backlash is considered minor, although some fans did refuse to go along with the 3Com name, continuing to call the stadiumCandlestick well after the naming rights deal had been signed.
As a result, many observers, such as Baseball Weekly's White, have concluded that it is preferable for a company to slap its stamp on a brand new ballpark, rather than renaming an old one like 3Com did.
"Everyone still wanted to refer to it as Candlestick, as part of this anti-corporate/baseball purist thing," White said. "But what (else) are you gonna call Enron?"
Cisco Sammy
In the future, naming rights deals may expand to include a team's name itself. Late in March, speculation surfaced that basketball's Vancouver Grizzlies might receive millions of dollars from delivery giant FedEx to move to Tennessee and rename themselves the Memphis Express.
Could Sammy Sosa someday swing for the San Jose Ciscos?
"Say the (Montreal) Expos move to Virginia or Washington," White said. "If somebody lines up and says, 'I've got a deal for you,' I can see it being done. I can't see anyone in baseball management jumping up and down and saying, 'Don't do it.'"
Play Ball!
In the meantime, one question remains. Which tech company sponsors the best place to chomp a hot dog and see a game? According to White, Pacific Bell.
"Just the atmosphere, the view and everything else," White said. "PacBell wins because you just sit there and look out."