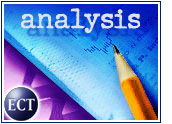 There is an interesting paradox developing in the online bookstore industry. Fourth quarter revenues (including holiday sales) are up, and books continue to be the top-selling product category on the Net, but virtually across the board, book e-tailers are falling short of analyst earnings estimates.
The result: a flurry of e-bookseller stock downgrades.
What exactly is going on here? Have online bookstores reached their market saturation point? Are they really in dire straits? Or are they simply the victim of overreaching analyst expectations?
According to observers like Yankee Group research analyst Paul Ritter, dot-com booksellers might not have hit the wall just yet, but they are running abreast of it — and as a result have little margin for error to remain in business.
Wall Street seems to be looking for companies that sell Net books to have an exterior safety net, such as additional product categories or offline partners.
"Overall online retail sales still represent 1 percent or less of all retail sales in the U.S., so there's still a lot of growth opportunity," Ritter told the E-Commerce Times. "But we're certainly seeing a flattening of the curve for books because it's one of the most mature online industries."
Up is Down
On Tuesday, BarnesandNoble.com (Nasdaq: BNBN) issued a preliminary report saying that fourth quarter sales were up 36 percent over those in Q4 1999. Additionally, BarnesandNoble.com chief financial officer Marie Toulantis said that the company ended 2000 with more than US$225 million in cash and highly liquid marketable securities — and no debt.
"We made major one-time investments in distribution, technology and customer service in 2000, and we expect capital spending and expenses to be significantly reduced in 2001," Toulantis said.
However, the positive news did not override Wall Street's concerns for the company, which also warned that losses for the quarter would be from $1.05 to $1.08 per share — greater than the consensus estimate of 95 cents. Though BarnesandNoble.com stock has risen in 2001, it slipped back Wednesday to $2.19.
The question is, did BarnesandNoble.com objectively underperform, or were analyst predictions simply too high?
Justified Cynicism
Ritter makes the case that expectations were realistic. Essentially, when it comes to online books, the cautious, post-shakeout stock market is worried that increased sales do not outweigh the fears that "one-time" charges will come time and again.
"Knowing what the margins are in that business, there's only so much Net income that can be derived from selling books — even on a massive scale — because there are so many players in the game," Ritter said. "Only a few are able to achieve massive scale and there will continue to be new competitors coming in. Competition will only increase, but not as fast a pace as it has."
Pressure's On
Ritter added that Barnes and Noble, Inc. (NYSE: BKS), the parent company of both the online and brick-and-mortar Barnes and Noble bookstores, "needs to continue to place emphasis on increasing sales through all channels and not [place] too high expectations on rapid growth just from their Internet channel."
In other words, selling books online is no solution, in and of itself.
That is why Amazon.com (Nasdaq: AMZN), which many observers criticized for straying dangerously far and wide from its bread-and-butter offering of books, may have actually done itself a favor by diversifying.
Spreading Itself Fat
Amazon is nothing if not a conundrum. Three significant Wall Street firms downgraded Amazon stock Monday after announcing projected fourth quarter earnings at the low end of expectations. On the other hand, by the end of the day, the stock had risen.
"In Amazon's case, their model has been to expand rapidly into a very wide range of additional products," Ritter said, "and in many cases these are products that bring with them far higher margins than books will ever bring."
Whether the company succeeds on its different tack remains to be seen, but there do not appear to be too many people clamoring for Amazon to reduce itself back to books and books alone.
"I think they will stumble a few times and hit on some verticals that dont pan out," Ritter said, "but when theyre selling such a wide range, many of the product areas will turn out to be successful areas. Theyll have a few that turn out to be dogs. But their business model plays into their hand."
Seller! Seller!
Although he predicted a "continued shakeout" in the online book industry, Ritter did not rule out the possibility that dot-com firms can succeed at concentrating on books in a limited, careful, manner.
"Many of the future opportunities will be on a much smaller scale of specialty/niche areas in books, where people are not looking to be selling a million titles a month, but a thousand titles a month," Ritter said.
However, the other companies — the ones that are going after the biggest piece of the online bookselling pie — will have to report Marlon Brando-sized sales or Lara Flynn Boyle-like cost reductions to impress jittery investors.
If those expectations seem too high, Internet booksellers may simply have to get used to them — or get out.