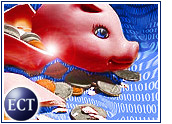 Barnesandnoble.com (Nasdaq: BNBN) was down 0.406 at 2.0 early Wednesday after the online bookseller said its acquisition of Fatbrain.com will crimp results.
The New York-based e-tailer said sales for the fourth quarter rose 36percent from a year earlier to more than US$103 million, while full-year salesrose about 65 percent to $318 million.
The Fatbrain acquisition, completed in November 2000, will result in a pro forma loss per share of $1.05 to $1.08 for the year, the company said. While theloss is larger than analysts' estimates, Barnesandnoble.com said those estimates did not take into account the Fatbrain acquisition or marketing expensesassociated with a Yahoo! agreement.
According to the e-tailer, its best sellers last year were a boxed set of Harry Potter books and theBeatles Book, while music sales were also strong. In addition, sales from the company's DVD-video store, which opened in July, "exceeded expectations" for the holiday selling season, Barnesandnoble.com said.
"We are pleased with our sales growth, especially in light of the fact that it was achieved with no major product extensions," said company chairmanSteve Riggio. "In fact, we believe we are gaining market share in books."
Riggio said the sales gain was achieved "with a minimum of promotionaldiscounting and no offline advertising."
Chief financial officer Marie Toulantis said the company ended the year withmore than $225 million in cash and marketable securities, as well as nodebt. Expenses in 2001 will be lower, Toulantis said, as the company made "major one-time investments in distribution, technology, and customer service" last year.
The company plans to report results on February 1st.