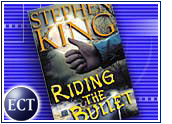 Spurred on by the success of Stephen King's e-book experiment and low distribution costs, the digital book industry in the United States is set for an explosion over the next few years, according to a report issued Tuesday by research firm IDC.
The report, "Electronic Publishing Forecast and Analysis, 2000-2004: Digital Books and Print on Demand," predicts that the U.S. market for digital books, including digital downloads and print-on-demand books, will grow from US$9 million this year to $414 million in 2004.
"Book publishing is the next big media industry to go digital," said Malcolm Maclachlan, senior analyst for IDC's eMedia program. "Numerous major industry players already embrace electronic publishing."
Maclachlan noted that many book publishers are signing alliances with technology providers and "well-known authors are throwing their weight behind promotions offering their works in digital form."
Traditionals or Indies
Machlachlan told the E-Commerce Times that smaller, independent publishers will struggle for their place in the e-book world.
"I think the future will still be with big publishers," Maclachlan said. "All ambitious authors want to get big contracts with big publishers."
However, Maclachlan does not believe that smaller independent e-book publishers will vanish. He believes that the future could see major publishers using independent publishers as "kind of a minor league to test out new authors."
Those authors that can prove their salability through smaller publishers could end up with big league contracts.
Maclachlan also sees a "huge future" in print-on-demand publishing because it bridges the gap between traditional and e-publishing by melding the convenience of digital publishing with the familiarity of a paper book.
Motivating Forces
Framingham, Massachusetts-based IDC believes that although momentum for digital books will build throughout 2001, digital books will "really make their presence felt across the industry" in 2002.
The development of new hybrid and multifunctional devices for reading e-books will be key to the growth of the industry, the firm said.
In addition, as more and more publishers realize that digital books can save distribution costs, new e-book offerings will be presented.
Popular Format
Another growth factor is standardization in the formatting of digital books. Maclachlan believes the formats of choice for digital publishers will be Adobe's PDF and Microsoft Reader.
Publishers also hope to take advantage of well-documented willingness of shoppers to buy books online. A report released last month by The Conference Board and NFO Research found that books were the No. 1 online purchase for the second year in a row, with approximately 45 percent of the survey respondents having purchased books on the Internet this year and last.
Digital Authors
In March, when Stephen King decided to release his novella "Riding the Bullet" in e-book format only, it was such a success that it caused outages at book e-tailers across the Web, including Amazon and BarnesandNoble.com.
In another high-profile move, popular suspense author Frederick Forsyth released the first in a five-part e-book short story series through Internet publisher Online Originals.
King also tried offering a serialized e-book on the Net, "The Plant," through the honor system, but discontinued it in November because thousands of fans were downloading the book without paying.
Turning on Readers
Readers will be attracted to e-books because of the portability of e-books and e-book readers, IDC said. An e-book reader and several novel length books take up no more space than one paperback. Additionally, reduced publishing costs mean that publishers can offer readers a wider variety of books than ever before.
E-textbooks — which are well-suited to digitalization because they are updated every year — will also help lead people to reading other types of e-books because people will begin searching for other types of e-books to read as they become familiar with reading e-textbooks.
The Now of E-Publishing
A variety of major publishers, including Random House and Time Warner, have jumped into the e-book fray.
IDC said that in order to succeed in digital publishing, companies must "lead the way in the development of sound business models to support online distribution strategies, including publishing as downloads, print-on-demand, and online reading."
One sign that publishers are moving in the right direction, according to IDC, is endorsements by major e-tailers, such as Amazon and BarnesandNoble.com, both of which have opened their own e-book stores in recent months.