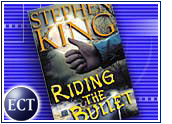 E-tail powerhouse Amazon.com has been selected by novelist Stephen King to provide a secure payment system for monthly downloads of "The Plant," the latest electronic book to be made available over the Internet by the best-selling author.
King made the first installment of his serial novel available on his StephenKing.com Web site Monday morning, requesting that readers pay $1 (US$) per installment on the honor system. Users have the option of either paying immediately prior to download or downloading the installment with the promise to pay later.
Readers who choose to pay first will be linked from King's site to Amazon.com, where they can make payments by credit card, cash, check or money order. Once payment issues, they will be redirected to a page on the King site with information on how to download the story as well as the software needed to read it.
Downloads of "The Plant" will be in the open PDF format, which can be copied and printed at will.
75 Percent Success Rate
King plans to continue the series after the first two segments if a sufficient number of readers honor his request for payment. As he explains on his Web site, "If you pay, the story rolls. If you don't, the story folds."
King will reportedly go forward if he receives payment from 75 percent of downloaders, with installments scheduled for late August and September.
"I am delighted that Amazon.com is providing a safe and easy way for readers to pay for 'The Plant'," King said. "By doing so, Amazon.com has considerably upped our chances in this innovative publishing experiment."
Publisher's Nightmare?
While King invited Amazon to be a fellow guinea pig in the "experiment," his publisher, Simon & Schuster, was excluded. Although the firm worked closely with him on his previous electronic publishing effort, "Riding the Bullet," King wanted 'The Plant' to be self-published.
"My friends, we have the chance to become Big Publishing's worst nightmare. Not only are we going glueless, look Ma, no encryption!" King proclaims on his Web site.
Despite being cut out of the loop, Simon & Schuster is taking the new developments in stride. "The jury's still out. We're not sitting here thinking the sky is falling," the company told the E-Commerce Times.
"The Plant," an epistolary novel set in the 1980s, tells the tale of a creeping "vampire" plant that takes over a publishing company.