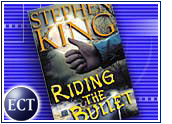 Satisfied with the number of readers paying or promising to pay for the first installment of his new serial novel "The Plant," Stephen King announced Monday that he plans to write and publish a third segment on his StephenKing.com Web site.
King, who requested that readers pay $1 (US$) per installment on the honor system, earlier stated that he would continue the series after the first two segments if a sufficient number of readers honored his request for payment. He explained on his Web site, "If you pay, the story rolls. If you don't, the story folds." Continuation of the series was contingent upon receipt of payment or promises to pay from 75 percent of downloaders.
As of July 31st — one full week after the first installment of "The Plant" was made available to the public — 152,132 downloads had been made, with 116,200, or 76.38 percent of readers paying or promising to pay, according to King. Conxion Corp., the Internet distributor of the story, said 100,000 downloads occurred within the first two days after the first segment was posted.
Not Yet Breaking Even
While King has already proclaimed his experiment a success, whether it will be as lucrative as his earlier publishing efforts remains to be seen. In addition to other production costs, King has already spent nearly $125,000 on print ads promoting the publication. Only 93,000 people have paid the $1 fee up-front to date.
King notes on his Web site, however, that "If 'The Plant' gets done, people are going to be downloading well into 2001, even with longer segments on offer. If those who have downloaded Part I so far download the following ten or eleven installments, the total downloads would be 1,673,452. Do the math. It's pretty good math if people keep coming back."
Thus far, fewer people have downloaded "The Plant" than "Riding the Bullet," his previous electronic publishing effort. However, King notes on his site that "'Bullet' was a magnificent one-shot, available from a lot more sources and in many cases given away for free."
Best Wishes
King's publisher, Simon & Schuster, was not involved in "The Plant," although they did work with King on the "Riding the Bullet."
Adam Rothberg, spokesman for Simon & Schuster, told the E-Commerce Times that it was difficult to speculate as to why, at least initially, King's earlier e-book drew more downloaders. "Every e-event is an event unto itself, and it is hard to draw hard and fast rules as to what makes something a success," he stated.
Simon & Schuster had earlier proclaimed a wait-and-see attitude toward King's experiment with "The Plant." Rothberg noted Tuesday, "We always knew it was possible" that King would reach his goal of 75 percent payment and thus continue publication of "The Plant."
"Simon & Schuster wishes him well," Rothberg confirmed. "We're glad the experiment has been a success, and we look forward to continuing to publish Stephen in the future, which we are going to do."
Competitors Rush In
Other publishing houses have since responded to the demand for "The Plant" by announcing plans of their own to launch units for electronic books. On Monday, Random House announced that it will start publishing fiction and non-fiction e-books in 2001 under its new AtRandom imprint. Random House will also offer digitized versions of its Modern Library backlist through online retailers.
As for King, the next installment of "The Plant" is slated for August 21st, and the third will be posted September 25th.