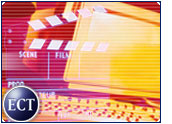 Following the lead of five other movie studios, Walt Disney Co. (NYSE: DIS) and News Corp. (NYSE: NWS) said Wednesday they intend to launch a video-on-demand Internet-based service early next year.
Movies.com will be a joint venture between Disney and Australia-based News Corp., the companies said, and will offer films from Walt Disney Studios, Twentieth Century Fox and Miramax Films. Animated Disney films will not be part of the offerings at the outset.
"We are creating a new service that takes advantage of advances in technology," said Disney chairman and chief executive officer Michael D. Eisner.
In addition to offering older films for sale, new releases from the two studios will be made available to Movies.com before being released to pay-per-view channels such as cable and satellite television. The two also said they are pursuing licensing agreements with third parties.
Sizing Up
Disney estimated that about 10 million U.S. households will be able to access the video-on-demand service via broadband Internet or cable connections.
The service will be run through the existing Movies.com Web site, which currently features Hollywood-related content and DVD sales links. Movies.com will be based in Los Angeles, and run with an independent team assembled by Disney and News Corp.
Following the Pack
Disney's announcement comes less than a month after five Hollywood studios said they would enter the video-on-demand market.
That as-yet unnamed project, being developed by Metro-Goldwyn-Mayer (NYSE: MGM), Paramount Pictures (NYSE: VIA), Sony Pictures Entertainment (NYSE: SNE), Universal Studios (NYSE: V) and AOL Time Warner's (NYSE: AOL) Warner Bros., is also expected to launch early next year.
Disney was quick to distance itself from that project, which will use the Web exclusively, emphasizing that Movies.com will use both the Web and existing cable outlets to distribute films.
So far, most legitimate video-on-demand services have suffered from a lack of sought-after content. In June, Hollywood.com and CinemaNow launched a site that stocks films mainly from smaller and lesser-known studios.
Cutting off Pirates
The studios are all reacting to the widespread pirating of movies, even newly released films, on the Web. Several file-swapping online networks dealing in digital film copies have sprung up in recent months.
In fact, the Motion Picture Association of America sued file-swapping site Aimster in July, alleging that the site has committed thousands of copyright infringements. The studios are seeking to collect damages of US$150,000 for each instance of infringement.
A study by Boston-based Viant released earlier this year estimated that as many as 500,000 movies are traded illegally over the Web every day.