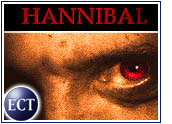 Film fans are finding that buying their movie tickets via the Internet is an increasingly attractive option, especially when the movie is as red-hot as box office hit "Hannibal."
"We sold three times as many movie tickets online [during] Hannibal's opening weekend than we had the week before," AOL Moviefone spokesperson Jay Jay Nesheim told the E-Commerce Times.
"Hannibal was, obviously, the No. 1 movie for both online requests for information on Moviefone and tickets sold," Neshiem said.
The surge in online sales of movie tickets during blockbuster weekends such as Hannibal's record-setting opening comes as no surprise to industry observers.
"One of the real selling points for online ticket sellers is that if there is a movie that is a likely sellout, people can go online and secure their seats without having to drive all the way to the theater — only to find out that the movie is sold out," said Paul Dergarabedian, president of Exhibitor Relations, a Los Angeles-based company that monitors box office performance.
Eating, Not Adding
The surge in online movie ticket sales is probably taking away from at-theater sales, according to Annlee Ellingson, film and technology editor for BoxOffice.com.
Ellingson observed that because most moviegoers are Internet savvy, "it makes sense that they would go online to buy." However, most of the online ticket buyers still have to get in line or at least go to the Will Call window at the theater.
According to Ellingson, the development of print-at-home ticket options is likely to expand because "if you have the printout, then you don't still have to get in line after buying online."
Save the Last Fandango
Ellingson commented that the online ticket sales by AOL Moviefone and others has been an "obvious attraction" for the exhibitors themselves. She pointed to the launch last summer of Internet movie ticketing venture Fandango.com by seven of the largest movie theater chains in the United States.
The Fandango site offers a variety of online services and information — including remote ticketing, movie reviews, trailers and show times — through Internet, telephone and wireless devices.
In December, Fandango expanded its partnership with Cinemark Theaters in order to give its members the ability to print tickets at home.
In addition to Cinemark Theaters, the venture includes partners Loews Cineplex, Regal Cinemas, General Cinemas, Carmike Cinemas, Edwards Theatres and Century Theatres, and was backed with an initial investment of US$30 million from venture capital firms General Atlantic Partners and Accretive Technology Partners.
Ticket Trend
Every major studio release has had its own Web site sinceat least the age of "The Blair Witch Project," which gave a Hollywooda wake-up call about the value of online marketing.
The latest trend is for film Web sites to link directly to the onlinemovie ticket sellers. The"Hannibal"site has a front-page box inviting surfers to type in their ZIP codes to buytickets to the show online, and links visitors directly to Internet sellerMovietickets.com.
Out Like a Lion
"Hannibal," the sequel to "The Silence of the Lambs," set box office records for a February release and for an R-rated release by earning an estimated $58 million in its first weekend.
According to published reports, Hollywood was looking forward to a big opening for the film, but the ticket sales posted went beyond the predictions. Only two openings in box office history have produced higher grosses than "Hannibal" did: "The Lost World: Jurassic Park" and "Star Wars: Episode I – The Phantom Menace."
Larry Gleason, president of worldwide distribution for MGM, told the E-Commerce Times that ticket sales have continued strong throughout this week.
Soccer Kickoff
Blockbuster movies are not the only hot tickets in cyberspace. On Thursday, tickets to soccer's 2002 World Cup will go on sale via the Internet for the first time.
The coveted seats will be made available at the World Cup's official site, FIFAworldcup.com.