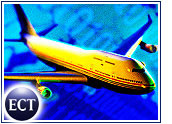 Amazon.com (Nasdaq: AMZN) opened a travel store on its Web site Wednesday, featuring booking services and travel status information from travel site Expedia (Nasdaq: EXPE).
The store also offers discounted travel through Expedia rival Hotwire and cruise vacations through National Leisure Group's The Vacation Store.
Expedia will provide the booking engine for the store.
"It makes perfect sense for Amazon to partner with one of the leading travel sites," Forrester Research analyst Henry Harteveldt told the E-Commerce Times, "just as they did with Circuit City for electronics."
Amazon is not going to try to recreate a travel booking search engine on its own, Harteveldt said. According to Harteveldt, Amazon has been working to make itself into the ultimate online shopping mall, "and every mall needs a good travel agency."
All on Board
Because it has both rivals on board, Amazon is touting the benefits offered to travelers by both Expedia and Hotwire.
The giant e-tailer said that travelers affected by changes in the current travel environment can access Expedia's comprehensive Travel Disruption Resource Center through the Amazon travel store. The resource center provides frequent airport and airline updates, information on check-in procedures, travel advisories and flight status reports, Amazon said.
In addition, the Amazon.com travel store offers discounted travel to consumers through Hotwire's specially negotiated Hot-Fares and Hot-Rates. Amazon said that for customers willing to be flexible on certain details like exact flight time or airline, Hotwire offers significant discounts off published fares and rates on flights, hotels and rental cars.
Optimistic View
Amazon is taking an optimistic, long-range view of the Internet travel market. Although the travel industry, both online and off, has been devastated by the recent terrorist attacks, analysts believe that the setback will only be temporary.
"Right now, some are questioning whether people want to travel, but 'right now' does not last forever," Harteveldt said.
In the days immediately following the September 11th terrorist attacks on U.S. soil, Expedia and Travelocity (Nasdaq: TVLY) both reported that travelers were booking at only 30 to 40 percent of previous levels. The fact that those numbers did not take into account numerous cancellations indicated that travel sites had a lot of ground to make up.
Big Picture
Harteveldt said that a deal like the Amazon-Expedia agreement takes months to put together and was most likely in the works long before the September 11th attacks.
Harteveldt added that Amazon probably considered alliances with all of the leading travel sites, including Travelocity and Orbitz, but that for a number of reasons Expedia came out on top.
"It helps that both Expedia and Amazon are Seattle-based companies," Harteveldt said.
Amazon said that later this year, its UK subsidiary will launch its own travel store, featuring travel-related products from stores across the Amazon.co.uk site. Expedia's UK arm will be the featured partner and booking engine for the store.