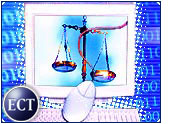 From corporate formation to business licensing to taxation, lawyers have a hand in nearly every aspect of a fledging e-commerce business.
A small businessperson has to wear many hats and unfortunately, one of those is being a client to a lawyer or bunch of lawyers.
For many entrepreneurs, working with attorneys is an enormous stumbling block. Some businesspeople would even rather talk to creditors or unhappy customers than their lawyers, because at least they understand what their creditors and customers are talking about.
However, one can reduce that insecurity by learning to "think like a lawyer" — a concept so important that it has become a catchphrase used by law professors and practicing attorneys alike.
Lawyers have their own language and modes of operation. The more you think and operate like a lawyer, the better you will fare in your dealings with them — from understanding their advice to deciphering their invoices.
Question Like a Lawyer
When working with a lawyer to analyze a potential agreement, do not expect him or her to view the deal the way that you do. Instead, take a step back and look at the deal the way the lawyer does. Lawyers see business transactions as collections of facts and relative positions.
In the process of working on a case or an agreement, lawyers are not likely to offer unsubstantiated expectations or emotional value judgments. While a businessperson might look with pride at a offline marketing deal as a possible way to boost business in the future, the lawyer will focus on the financial and reporting obligations described in the document.
Asking the questions that a well-trained lawyer would ask can go far in explaining the way lawyers act — and most likely enhance the value of the deal you are signing. Those questions include:
What are the obligations of the two parties to this agreement?
Can those obligations be met in a timely manner?
Will there be a tangible benefit in real, verifiable numbers — for example, number of potential customers reached, number of additional outlets or trade channels served?
In short, does the price to be paid for those benefits make sense, or do the relative positions of the parties start to go out of balance?
Reason Like a Lawyer
The central purpose of communication for a lawyer is to impart information and legal advice — a summary of the facts plus a description of the possible risks, benefits and outcomes according to legal rules and cases.
If your lawyer seems curt or patronizing, it might be because lawyers usually do not have any emotional investment in the conversation, or even the outcome of a negotiation.
The lawyer is not going to tell you what to do. Instead he or she will say "that's a business decision," which means that it is up to the business person to make the final call. The lawyer will marshal the facts and describe the potential risks and benefits of each choice, but will not tell you what to do specifically.
Speak Like a Lawyer
Although it is necessary to go to law school to understand legal terminology and the law on a sophisticated level, small business owners can still learn a few basic legal terms and habits of communication that will help them deal with lawyers.
For the definitions of legal terms that come up during the course of a contract negotiation or lawsuit, one can turn to Black's Law Dictionary. However, it is the commonplace words for which lawyers have a different meaning that can be the hardest to grasp. Those everyday terms include "business decision," "facts," "laws," and "advice" — words that mean something entirely different to a layperson than to a lawyer.
By the word "advice," for example, a lawyer means an array of choices — not specific instructions about what to do. And the "facts," from the lawyer's point of view, are a collection of points that can be shaped and re-organized to tell one story or another.
Instead of responding to advice from lawyer with questions like "What should I do?" or requests for confirmation that you are making the right decision, try to follow the lawyer's summary review of the facts. Then, analyze the potential risks posed by each choice or plan of action.
Act Like a Lawyer
One of the principles of working relationships that lawyers hold dear is that "everything is negotiable." Thus, when the lawyer's invoice comes in the mail, do not simply pay it, or question it on an emotional level.
Look at the descriptions of services, the hours spent and the number of lawyers working on each particular project. If you did not authorize the project, the lawyers assigned or the amount of time put into it, tell the lawyer you will pay for what you asked for, and "what's reasonable" beyond that.
In lawyer-speak, "reasonable" does not mean what you or anyone else objectively thinks is reasonable; it means what the two of you can agree on.
No matter what you do, be certain to work with your lawyer as a peer and not a superior or inferior being. Then, you will be more likely to get the advice and billing information that you require.