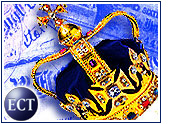 Securities analysts, once regarded as independent authorities on the value of publicly traded companies, are finding their statusdiminished amid investor lawsuits and reports of conflicts of interest, particularly regarding cases involving high-tech stocks.
Merrill Lynch's recent $400,000 settlement with a former client who alleged he was misled about the value of an Internet stock is likely to spur a rash of similar cases, observers say. As a result, they say, firms are going to have to expose the inner workings of their compensation arrangements to public scrutiny, a potentially embarrassing development.
Jacob Zamansky, the lawyer who brought the case against Merrill and its starInternet analyst, Henry Blodget, has already been quoted as saying he plansto go after other firms and their high-profile analysts as well. Zamanskydid not return a phone call requesting comment.
'Inherently Corrupt'
The problem, critics say, is the current compensation structure atsecurities firms, which ties analyst pay to underwriting revenue.
"Firms compete to get IPOs and other underwriting deals by advertising that theyhave star analysts" who will tout the issues to clients, according to Columbia University School of Law professor Jack Coffee.
"That inherently corrupts the analyst," Coffee told the E-Commerce Times.
Analysts are "under a lot of pressure" to please client companies, agreedKaren Nelson, assistant professor of accounting at Stanford University. As aresult, analysts may not be providing objective analysis and valuation of companies they cover, Nelson told the E-Commerce Times.
Congress on the Case
The U.S. Congress is looking into the issue, with the House Financial Services Committee's panel on capital markets holding hearings on whether investors are getting unbiased research from analysts. The second in a series of hearings is scheduled for Tuesday.
Rep. Richard Baker (R-Louisiana), who chairs the capital markets subcommittee, said at the first hearing June 14th that he hopes to "begin speaking about the unspoken," and to inform the public about the way Wall Street research works.
"I am deeply troubled by evidence of Wall Street's erosion of thebedrock of ethical conduct," he said.
Firms Pledge Honor
Meanwhile, securities firms are attempting to reassure investors, putting inplace measures like rules prohibiting analysts from owning stock. That ideais a "red herring," according to Coffee.
"The principal conflict is, if you want the analyst to be a neutral umpire, a fair appraiser," he said, "you can't have the analyst getting his compensation because of underwriting deals."
Coffee added: "Telling analysts they can't own stocks, that cures Conflict No. 3 on a list of conflicts."
Merrill Settlement
Avoiding the cost of drawn-out litigation, Merrill Lynch reportedly paid $400,000 to Debasis Kanjilal, a New York pediatrician who alleged he lost $500,000 as a result of Blodget's bad advice on Infospace (Nasdaq: INSP)– an Internet stock the analyst allegedly hyped even as its value plunged.
Coffee said the firm more likely "did not want to expose Mr. Blodget and their complex relationships to the scrutiny of discovery" — the process that allows plaintiffs access to information to further a case along.
"Possibly embarrassing facts come out in discovery," Coffee said.
Not a Precendent?
However, Coffee added that plaintiffs in future cases are not likely to get awards asbig as the $400,000 awarded to Kanjilal, as Merrill and other firms will bebetter prepared.
The Merrill settlement, he said, was surprising because it came "very earlyin the litigation," and the damages, at 80 percent of the amount sought,were well above the 30 to 50 percent range typical in an arbitration.
"Usually defendants play a kind of scorched-earth game, in which they resist and resist and delay and delay" until the plaintiff decides to cut losses and settle, Coffee said.
What's Next?
"It's now going to be very clear to Merrill Lynch that there other cases are coming," Coffee said. "I don't think they'll be willing to settle at such high [levels]."
With all this new scrutiny, will anything change? Will analyst research cometo be viewed as more objective? It seems doubtful.
"I think you're going to see better disclosure, but I don't think you're going to end the conflict of interest," Coffee said. "In time, if not already, the average person has learned to be fairly suspicious of analyst recommendations."