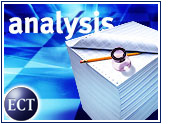 In the aftermath of Amazon.com's release of its Q2 earnings report Monday, several industry analysts believe that the e-tailer can make good on its prediction of year-end profitability.
The consensus is that Amazon (Nasdaq: AMZN) is pulling back enough on its growth strategy to reach its goal of profitability — at least pro forma profits — by the fourth quarter.
However, Bear Stearns analyst Jeff Fieler said that while this path makes sense for the corporation, investors and stockholders concerned with short-term valuation may get impatient.
"Amazon's report contains some bad news for bears, inthat the company's solvency is now assured, given itslong-term trajectory for growth," Fieler told theE-Commerce Times. "And also some bad news for bulls,in that revenue growth was down."
Goldman Sachs analysts, meanwhile, saw plenty of good news for Amazon.
"Amazon continues to deliver on all of the key operational metrics andbalance sheet items we monitor — gross margin,fulfillment costs, contribution/order, operationalmargin, inventory turns, and ending cash balance — reinforcing our view of Q4 profitability," Goldman Sachs said in a report issued Tuesday.
By the Numbers
Amazon posted a quarterly pro forma operating loss of 16 cents per share, outdoing analyst expectations for a 22-centloss. Amazon's net loss was $168 million, or47 cents per share, down from a loss of $317 millionor 91 cents per share for Q2 2000.
Amazon also reported $668 million in net sales for thethree-month period ending June 30th, up 16 percent fromthe $578 million in net sales from the second quarterof 2000. However, the company's core segment of books, musicand video grew only 1 percent, to $389.7 million.
Trimming Pays Off
Amazon has said that rather than concentrating on boosting sales, it has been focusing on cutting costs and improving its operating efficiency. Analysts attributed the results of Amazon's latest earnings report to the e-tailer's efforts on that front.
"In our view, Amazon's sacrifice of growth for profitability isprudent in order to build a framework to drive secularshareholder value while growth remains cyclical," Goldman Sachs said.
However, Bear Stearns' Fieler suggested that because Amazon is viewed as a growth stock, the reality for Amazon is that investors and stockholders expect to see revenue growth.
AOL Dollars Make Sense
AOL's $100 million investment inAmazon, also announced Monday, is being hailed by many as a strategically sound agreement for both sides.
Analysts at Goldman Sachs were bullish on theinvestment deal, saying that "AOL's investment is asignificant credibility stamp for both Amazon's equityvalue as well as the importance of e-commerce andAmazon in the converging world."
While the AOL partnership gives Amazon a chunk of capital, however, some observers have suggested that it backs the e-tailer into a corner when it comes to making deals with AOL competitors.
All Systems Go
Despite the fact that Amazon stock has dropped 88percent from its December 1999 all-time high of $113,Amazon.com chief financial officer Warren Jenson is optimistic.
"We continue to make progress toward reaching pro forma operating profitability in the fourth quarter of2001," said Jenson. "This quarter, the U.S. wasprofitable on a pro forma operating basis for thefirst time, and this is our sixth sequential quarterof improved absolute pro forma operating results."
According to Goldman Sachs, as Amazon proves itselfand reaches pro forma profitability in Q4, the company will shift its focus back toward revenue growth and will revisit its "land grab strategy."