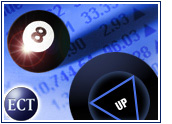 Online merchant Amazon.com (Nasdaq: AMZN) continued making strides towards profitability — pro forma profitability at least — with the announcement Monday that the company beat Wall Street estimates for the second quarter ended June 30th by 6 U.S. cents per share.
Amazon and America Online (NYSE: AOL) also announced Monday that AOL has made a $100 million investment in Amazon, building on a relationship that began when the companies inked a strategic alliance in 1997.
Amazon posted a pro forma net loss of US$58 million, or 16 cents per share, beating initial analyst estimates of a loss of 22 cents. Amazon's gross profit (sales minus the cost of sales) increased 32 percent from $136 million to $180 million, while the company's cash and marketable securities totaled $609 million as of June 30th, Amazon said.
However, though it managed to cut the figure nearly in half from the year-earlier quarter, Amazon's net loss for Q2 2001 was $168 million, or 47 cents per share.
The company said it still expects to reach pro forma profitability by the end of 2001. Third quarter sales are expected to fall in the $625 million and $675 million range, with gross margin expected to be between 24 and 27 percent of net sales.
"In some respects this is an historic quarter for Amazon," Amazon chief financial officer Warren Jenson said. "We will continue to trade top-line growth for bottom-line improvement. We are the first to recognize we have much left to do but our path is well defined."
Books Gets Boost
Revenue for Amazon's sluggish books, music, and video (BMV) segment rose 1 percent in the quarter, though gross profit rose 28 percent, the company said.
Jenson said that the company expects operating margins in BMV to decline as the company focuses on profitability.
"We now have the flexibility to pass higher discounts to our customers andstill meet our long-term business objectives in this segment," Jenson said.
Shipping Shape
The company also managed to trim some of the fat from its total shipping andfulfillment costs. Fulfillment costs amounted to approximately 13percent of net sales, down from 15 percent of net sales in the firstquarter.
However, Amazon's cost per new customer account rose from $12 in the firstquarter to $14 in the second.
Amazon said it will continue to offer shipping promotionsto its customers from time to time and might continue to experience fluctuating shippingmargins.
"We feel very comfortable that we can be profitable in the fourth quarterand at the same time pass some of the savings back to consumers," Bezossaid.
AOL Becomes Amazon's ISP
Amazon announced that its e-commerce platform will now power America Online's Shop@AOL destinations, giving Amazon direct access to 350 AOL merchants and the Internet service provider's (ISP) 30 million-plus members.
As part of the alliance, Amazon will promote AOL as its exclusiveISP.
"This expanded relationship with AOL is another example of our ability tocustomize our platform to a particular customer's needs," Amazon chiefexecutive officer Jeff Bezos said.
Bezos said the new agreement is not a direct expansion of the marketingagreement the two companies have shared since 1997.
Going Wide
In addition to the AOL partnership, Amazon continued expanding bothdomestically and globally in the second quarter.
The Amazon-Toys 'R' Us' co-branded site launched almost a year ago hasproven quite successful in driving sales for both companies. Thetwo companies expanded their alliance in May with the intent to integrate the Toys 'R'Us-owned Babiesrus.com site into Amazon's pages.
Amazon also inked a deal with brick-and-mortar bookseller Borders to operate the Borders.com site.
Earlier in July, the company expanded its reachinto brick-and-mortar stores overseas with its announcement that its Britisharm, Amazon.co.uk, has teamed up with European mobile phone providerCarphone Warehouse to offer customers pre-paid phones online.