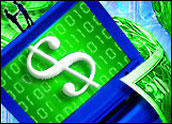 As industry observers scan the horizon for signs of an economic recovery in 2002, several dot-coms are boosting hopes for an e-commerce renaissance by turning a profit. Each company's strategy is different; for example, Expedia has focused on branching out beyond selling airline tickets, while 1-800 Contacts chose its product because it is ideal for mail order — and thus, for the Web.
Whatever their strategy, however, profitable dot-coms have something in common: They are making smart choices when it comes to which products they choose to sell.
Without further ado, here are three businesses currently making money on the Net.
Branching Out
It is no secret that travel is one business that really works on the Internet, mainly because online travel providers do not need to carry physical inventories. Expedia is a perfect example.
Steadily gaining market share over the past year, Expedia recently passed Travelocity in gross bookings among online travel agencies, recording US$704 million in gross bookings in the quarter ended December 31st.
The company booked a net profit in the fourth quarter of 2001. It reported net income of $5 million, or 8 cents per share, compared with a year-ago net loss of $25 million, or 53 cents per share.
"They get more of their percentage from non-airline purchases like hotel, cars, vacation packages, et cetera, which tend to be more profitable then airline tickets, and obviously airline travel has been down," Morningstar.com analyst David Kathman told the E-Commerce Times. "Hotels have been down a lot less and recovered almost totally from September 11th."
In addition, Expedia had better margins than Travelocity last quarter. The company said it had a 22.6 percent operating margin, compared with Travelocity's 5.8 percent. In July, USA Networks and Expedia announced an agreement that called for USA Networks to acquire up to 37.5 million shares of Expedia stock. USA Networks also owns Hotel Reservations Network, another profitable online venture.
Suited for Net
Following a model similar to that of another profitable online company, FTD.com, 1-800 Contacts sells brand-name contact lenses via the Web and through call centers.
The company's net income in fiscal 2001 was $9.9 million, or 84 cents per share. Internet sales grew to $16.1 million, or 43 percent of total net sales, up from $15.7 million, or 42 percent of total net sales, in the year-ago period.
Kevin McCallum, vice president of marketing at 1-800 Contacts, told the E-Commerce Times that there is a simple reason for the company's success.
"We acquire customers for less than they're worth, and we sell stuff for more than we pay for it," he said. "The product you sell has to be commensurate with Net sales and shipping to people. Contact lenses are lightweight, easy to ship and require frequent replacements, so it's ideal for mail order — and the Web is perfect for mail order."
In fact, McCallum said, the company achieves the same level of profits on its Internet sales as it does on its phone sales. Its advertising focuses on targeted direct mail and television.
"Our Internet sales are profitable because we don't have to hire a call center agent, so we pass along the savings by offering free shipping," McCallum said. "We [also] cover the cost of our advertising in the price of our products."
Diverse Product Strategy
Another dot-com, E-Loan, used a diverse product strategy (selling auto, mortgage and home equity loans) to achieve GAAP profitability and its second consecutive quarter of positive cash flow in the fourth quarter ended December 31st.
The company's net income in the fourth quarter totaled $1.9 million, or 3 cents per diluted share.
"The basis of our model is having multiple product lines, and as we go through the interest rate cycle, different products will become hot and others will become cooler," E-Loan president and chief operating officer Joseph Kennedy said in a conference call.
"The biggest opportunity in Q4 was mortgage refinance, and we focused on that area and took advantage of it."
The company said it expects a profitable 2002, with net income of between $8 million and $11 million.
"The continuing improvements to our underlying cost structure contribute hugely to the profit numbers," E-Loan CEO Chris Larsen said. "We made an improvement of 12 percent just in the [last] quarter in core mortgage operating costs. This builds on itself to attract customers because you can offer a price guarantee which reduces your costs, particularly online where the early fixed costs are high and the marginal costs are very low."