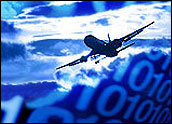 In a clear signal that online travel is on the mend,Expedia (Nasdaq:EXPE) reported much stronger than expected earningsfor the fourth quarter.
"Internet travel, it appears, is recovering more quicklythan the travel business in general," Expedia CEO RichBarton said, pointing to travelers' desire for gooddeals and more information.
On the Upward Trail
The company reported net income for the fourth quarter of US$5 million, or 8 cents per diluted share, compared with a year-ago net loss of $25 million, or 53 cents per share.
Net income before special charges was $19 million — nearly triple whatanalysts expected and a far cry from the $2.6 million loss before charges reported in the year-ago quarter. Revenue totaled $81.7 million, almost double last year's Q4 results.
Expedia's strong showing prompted its stock to jump to $54 inafter-hours trading after closing the regular sessionup 8 percent to $50.76. In early trading Tuesday, the stock was still hovering around $54.
Expedia chief financial officer Greg Stanger saidthe company expects to remain profitable in 2002,with earnings of $80 million for the full year.
Travel Slowdown
September 11th caused an industry-wide slowdown intravel, but online travel sites are showing a strongrecovery. According to Stanger, Expedia's Januarybookings are ahead of December's levels.
"In the events post-September 11th, it appears asthough online travel has picked up surprisingmomentum," Morgan Stanley analyst Mary Meeker said.
Vacation Sales
Hotel and vacation sales were key to Expedia'ssuccess. The company has been trying to shift away from itsreliance on air sales — for which the site gets aflat travel agent fee — to more lucrative merchantsales, including hotels and vacation packages, whichgenerate better margins.
Expedia said its revenue from merchant sales was up 185percent to $34 million in the quarter, while agencyrevenue rose 75 percent to $42 million. Stanger saidhe expects merchant revenue will increase by 125 percent in2002, while agency revenue will increase just 15 percent.
The company also continues to add to its vacation offerings. OnJanuary 23rd, Expedia agreed to buy wholesaler ClassicCustom Vacations for $52 million. "We expect ClassicCustom Vacations to become a key building block of ourpackage strategy," Stanger said.
The deal, which is expected to close on March 31st, willadd $3 million to Expedia's bottom line in 2002, plus an additional $8million to $10 million in 2003, Stanger said.
Pulling Ahead
Though analysts are optimistic about the online travelsector in general, Expedia's results were much betterthan those reported by competitor Travelocity(Nasdaq: TVLY), which on January 16th said it made$4.9 million in the December quarter, falling short ofanalyst expectations.
Expedia also passed Travelocity in total travelsales. Expedia sold $704 million in travel on its sitein the quarter, compared with Travelocity's $630.2million.