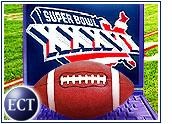 Over the past couple of years, Super Bowl advertising by dot-coms has gone the way of the dinosaurs. This year, a few fossils remain, but the scene is still a far cry from the dot-com Super Bowl party thrown in 2000, when as many as 20 e-businesses bought more than US$2 million worth of ad time for the big event.
According to Fox Sports spokesman Lou D'Ermilio, just three dot-coms are currently on board for Super Bowl XXXVI on February 3rd, with slightly more than 80 percent of total Super Bowl advertising time sold as of this writing.
The three dot-coms that remain should come as no surprise to those familiar with the famous e-commerce Super Bowl ads of the past. In fact, the companies — HotJobs.com, Monster.com and E*Trade — are the only dot-coms that advertised during the Super Bowl last year. The question is: Why are they still there, and perhaps more importantly, how?
Advertising 101
"We're still here" was the message sent to viewers in last year's E*Trade Super Bowl campaign, and it remains a valid claim in 2002. But the reasons why Monster, HotJobs and E*Trade are still in the thick of the ad game may have more to do with the fundamentals of good advertising than with the shakeout traditionally blamed for many dot-com Super Bowl no-shows.
"It goes back to advertising 101," GartnerG2 media research director Denise Garcia told the E-Commerce Times. "Advertising is about reach and frequency — the Super Bowl gives you tremendous reach, but it's a one-time shot. Many dot-coms had a sense of urgency to brand and increase awareness as fast as possible, so they opted for this big reach in a very small amount of time and found it didn't work."
In other words, even if a dot-com has the money to spend on a Super Bowl ad, which is a rarity these days, it will not do much good unless the company can follow up with consistent branding messages throughout the rest of the year.
"The Super Bowl should be part of an overall marketing strategy," Garcia said. "If it is the only thing [the dot-com] uses, then certainly that wouldn't work for anybody."
Monster Example
The reason Monster has been so successful with the Super Bowl, Garcia said, is because the company has an entire marketing strategy using different media to back up its Super Bowl campaign. In addition, its messages — unlike those of most dot-coms, which often focus on targeted niche audiences — are well suited to a mass-market approach.
"In this economy, a site that offers a list of jobs — you don't have to be a rocket scientist to be successful," said Garcia. "Their target is all of America — they don't have a specific target — and those are the companies that keep coming back [to the Super Bowl]."
Monster director of advertising Zhennaa Gallagher told the E-Commerce Times that the company does not feel it is a dot-com in the traditional sense, because successful Super Bowl ads have led people to think of Monster as a major brand akin to Pepsi or Coke.
"It's a lot of money to ensure your spot is seen by millions, but if you can't follow it up with a marketing campaign throughout the year, it's not a good way to invest your dollars," Gallagher said.
Tickling the Funny Bone
This year's Monster campaign began with ads during the Bowl Championship Series football games and will continue during the Winter Olympics. Gallagher added that in order to break through the crowd and stand out on Super Bowl Sunday, Monster has stuck with a humorous approach.
"You'll see humor in this year's campaign too," Gallagher said. "Given the context of where our economy is, one of the things we're trying to do in this year's 'Never Settle' campaign is to give people the inspirational message they are looking for. I think they are looking for consumer confidence, applying to all aspects of your professional and personal development."
Lasting Impressions
Of course, these dot-coms would not keep going back to the Super Bowl unless they saw immediate and direct results. Gallagher said Monster's Super Bowl ads consistently have generated record traffic and resume submissions during the weeks immediately following the Super Bowl.
HotJobs, meanwhile, said that last year within a half-hour of the HotJobs commercial airing, traffic to its Web site jumped 174 percent. In addition, the company said it retained record levels of visitors and unaided brand recognition in the weeks and months following the Super Bowl.
And according to Diagnostic Research, E*Trade — which is sponsoring this year's halftime show for the third year in a row — experienced a 64 percent increase in top-of-mind brand awareness last February on the heels of the January 2001 Super Bowl.