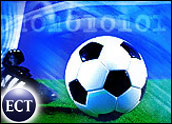 Yahoo! (Nasdaq: YHOO) will host the Web site for the next two World Cup soccer tournaments under an agreement announced Tuesday with the Federation Internationale de Football Association (FIFA).
Yahoo! said it has exclusive rights to produce, market and host the FIFAworldcup.com site, and will sell site sponsorships, along with FIFA. The deal covers the 2002 World Cup in Korea and Japan, and the 2006 event in Germany.
"Marketing and sponsorship packages available on FIFAworldcup.com also allow Yahoo! to demonstrate its ability to deliver on advertisers' goals by reaching their targeted audiences with creative, relevant and compelling solutions," Yahoo! president and chief operating officer Jeff Mallett said.
Yahoo! has been trying to boost revenue and expand its offerings to offset money lost from a widespread downturn in the Internet advertising market. The company has said partnerships and joint ventures would become a big part of its business.
Terms of the agreement were not disclosed.
Big Event
The World Cup is arguably the biggest sports event in the world. The 64 matches of the 1998 World Cup, held in France, were watched by more than 33 billion viewers, with the final match — between France and Brazil — drawing 1 billion people. By contrast, the National Football League's Super Bowl generally gets about 140 million viewers each year, Yahoo! said.
The Web site for the last World Cup, France98.com, registered 1.1 billion page views during the event.
"Combining the worldwide popularity of both the FIFA World Cup and the Internet, along with Yahoo's 200 million unique monthly visitors, the aim will be to exceed this mark and create a new precedent for event traffic," Yahoo! said.
Yahoo! said the Internet will be "an essential service" for soccer fans during the World Cup match, because it will provide up-to-date information and background around the clock, regardless of time zone. The site will be available in English, Spanish, Japanese, Korean, French and German.
Billboards, Kiosks Planned
The site will provide, among other things, an online "club" offering special content, deals and promotions, live broadcast streaming of events, archived video highlights, real-time statistics, an online store, and wireless Internet updates.
Yahoo! will also have on-field billboards in each of the 20 stadiums holding the World Cup matches, and the 2002 games will feature kiosks with online access to FIFAworldcup.com and Yahoo! programs.
Yahoo! said the agreement also gives it marketing rights to the 2003 Women's World Cup in China and additional FIFA soccer championships.