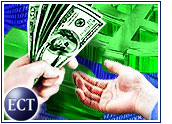 It is common knowledge that heavy, bulk items with high shipping costs (for example, pet food) are at a major disadvantage when it comes to online selling. The items that have sold best online (such as books and music) can be sold in large quantities and at low prices, and can be described to consumers with simple precision and accuracy.
But these product qualities should not limit anyone's vision of what does and does not work on the Net.
"I think EBay has proven that there's nothing that can't be sold online," IDC analyst Jonathon Gaw told the E-Commerce Times. "You really can sell anything online — it's a matter of whether you can implement the infrastructure and price structure to make a profit off of it."
Finding the Right Fit
Certainly, some products are more suited to the Net than others. But with the right strategy and context, analysts said, there is an online market waiting to be exploited for even the most mundane items.
"The two big inhibitors to any product selling online are whether it can be shipped economically and the degree to which the attributes of the product can be quantified," Jupiter Media Metrix analyst Ken Cassar told the E-Commerce Times.
For example, a sophisticated computer buyer who understands the product well enough to break it down to quantitative attributes, such as RAM and megabytes of hard disk space, probably would be very comfortable buying a PC online, Cassar said.
On the other hand, someone who has never purchased a computer before and does not understand this kind of information likely will need to visit a brick-and-mortar store before making a purchase.
Context Is King
The end result is that whether or not a product is suitable for Net retail depends a great deal on its context. Gateway operates offline stores to cater to the first-time PC buyer market, whereas Dell can get away with an online-only channel strategy because it targets more sophisticated computer buyers who know how to customize purchases.
"Context and community are very important," GartnerG2's Geri Spieler told the E-Commerce Times. "The Net can bring together communities and help people find things they normally wouldn't research (i.e., hard-to-find books) without it. Anything can be sold if it's in the right context and it makes sense."
Going for the Oddball
According to Spieler, the Net can be a successful marketplace for "oddball" products not sold by giant online retailers. This doesn't mean that everyday products like toothpaste, wallpaper and mustard cannot be sold online — just that they cannot be sold online unless they are sold in the right context.
"You can sell unusual things as a niche market," Spieler said. "If you're a mustard aficionado and there's a unique store that sells mustards from all over the world, then there's a good chance you might go there."
Of course, there is no question that items people purchase repeatedly — such as office supplies, paper, bath products, flowers and some clothes — are more saleable. But as with any other Net product, it boils down to convenience.
"[These types of products] can work if a brick presence is already there and I'm willing to pay for the convenience," Spieler said. "Retailers need to know how to merchandise their site. You don't need to put everything you have on your site unless you're trying to unload extra inventory. When people are online, they are looking for something specific."
No Shipping Worries?
Even higher-margin items, such as fur coats or Oriental rugs, can be sold online if an e-tailer can wrap a brand name or additional value-added services around them, according to Gaw.
"You have to trust that what you're getting is of high quality and that you can return it," Gaw said. "Lands' End does well not because they have fabulous clothes necessarily but because you know that if it's not what you want they'll take it back."
Even shipping costs can become a non-issue for consumers in the right context, he added.
"If it's an Oriental rug where you've been searching for a specific pattern and you finally find it on the Internet, paying an extra 10 bucks for shipping doesn't really matter," Gaw noted.
"It's not a huge issue because the real value you're getting is that you found the rug that you wanted."