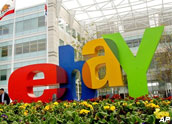 EBay (Nasdaq: EBAY) continues to stand out as one of the fewclear-cut successes in the online world.
The auction giant has been consistently profitable at a time when other Internet companies are languishing in the red or closing down altogether.
So, what is the company's secret? Experts say a combination of factors has boosted EBay to the top of the dot-com heap.
Perfect Fit
Unlike some other Web companies, EBay's business modelis truly suited to the Internet, analysts said. "The whole concept ofauctions translates extremely well to the Webenvironment," Gartner analyst Walter Janowski told the E-Commerce Times.
"The type of real-time auctions that EBay hosts, withpeople simultaneously participating from all over theworld, just could not exist without the Internet,"Morningstar.com analyst David Kathman agreed in an interview with the E-Commerce Times.
Unlike EBay, Kathman said, other Internet companies closely resemblebrick-and-mortar firms. "Amazon is ultimately just aretailer, Expedia is essentially just a travel agency,and Webvan was essentially just a grocery deliveryservice, all of which existed long before theInternet," he noted.
Merry Middleman
EBay also is less capital-intensive than other e-commerce companies like Amazon, giving it a leg up on those companies.
"They are the middleman. They connect buyers andsellers and enable transactions, but they don't have todo any of it," Janowski said.
"Amazon had to build warehouses to hold all the stuffthey sell, and … they have to pay to ship it to thecustomers," Kathman added. While EBay leaves storingand shipping to buyers and sellers, fulfillmentcosts slash Amazon's gross by more than one-third.
The Fun Factor
Then there is the pure pleasure some people get fromthe auction process. "It's fun," Forrester analyst Christopher Kelley told the E-Commerce Times.
"Just like people like to go to flea markets or yardsales for used goods in the summer, or to outlets fornew goods, EBay gives people a chance to have funshopping, searching for the often-elusive deal on theperfect collectible or new item," Kelley added. "EBayis an outlet mall or flea market on steroids."
EBay also can be an inexpensive option for onlineshoppers. The site's users often know how much aparticular item costs at a brick-and-mortar store, and theygo to EBay looking for a deal.
"For consumers who haveto tighten their financial belts, it's the perfect place," Kelley said.
Community and Critical Mass
But any auction site could be described as fun, less capital-intensive than other e-businesses, and well suited to the Web. EBay clearly has something extra.
According to Janowski, EBay has an edge over other auction sites because it worked hard to build a community. "Buyers and sellers are easily able to communicate with each other and share ratings and opinions," he said.
That sense of community has led to what Kathman callsthe "network effect." "The more people use EBay'ssystem, the stronger it becomes," he said. "All the buyers gothere because that's where all the sellers are, andall the sellers go there because that's where all thebuyers are."
Simple, Safe and Secure
Another thing EBay has done right is Web design. The company has shunned bells and whistles andhas kept its interface simple and easy to use.
"EBay learned early on that people who use the Webwant the sites they use to be very fast and efficientand uncluttered," Janowski said.
EBay also has focused on reliability and security, according to Janowski. "They have built a sense of trust with theircustomers," he noted. "They work very hard to maintain standardsfor what's being offered, to restrict people from abusingthe system and to pull inappropriate material."
On the technical side, EBay has focused on making sureits site is always up and running, able to handleuser traffic with no trouble.
"They very rarely have service interruptions, and theystruggle to give the impression that they really havetheir act together and that it's a stableenvironment," Janowski said.