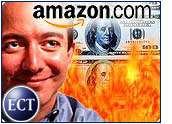 In a world where Internet-only players are flying off the screen at an alarming pace, Amazon.com (Nasdaq: AMZN) is likely to succeed where other pure-plays have failed, analysts from Jupiter Media Metrix told the E-Commerce Times.
The e-tail giant itself said this week that it is on track to deliver pro forma profitability in the fourth quarter of 2001, and expects to be profitable on the same basis for all of 2002.
However, according to Jupiter's analysts, the reasons why Amazon will succeed go beyond the current state of its ledgers, which right now carry more than US$2 billion in debt.
Jupiter senior analyst Ken Cassar told the E-Commerce Times that Amazon has had opportunities that competitors lack, because the e-tailer was able to garner more free publicity and raise more money than those coming late to the dot-com party.
However, Jupiter research director Michael May did note that Amazon cannot reach profitablity through retail sales alone.
"It needs other ways to supportits retail side," May said.
Get Real
Amazon "may be the only exception" to the trend away fromInternet pure plays and toward brick-and-click operations,Cassar said, but he added that even Amazon seems to realizeit cannot live without brick-and mortar alliances.
Both May and Cassar believe that Amazon will continue toleverage its technology to run e-tail operations for brick-and-mortar retailers.
The Amazon and Toys 'R' Us' co-branded site launched almost a year ago has proven quite successful in driving sales for both companies. Moreover, the two expanded their alliance in May and will soon be integrating the Toys 'R' Us-owned Babiesrus.com site into Amazon's pages.
Amazon also inked a dealwith brick-and-mortar bookseller Borders to operate theBorders.com site. And, earlier this year, Amazon was reportedlyin talks with Wal-Mart and Best Buy to take over their e-tailoperations.
Split Decision?
"I would not be at all surprised if during talks, Amazon triedto negotiate a physical presence, at least to returnmerchandise," Cassar said.
Even so, Cassar pointed out, Amazon might have better luckleveraging its technology if it split its operations, with one company being a technology provider and the other an e-tailer.
The analyst said that there are some companies that would "love to partner" with Amazon as a technology provider, but are hesitant to do so because their e-tail operations are in direct competition with Amazon's.
Taking a Cut
Nevertheless, Amazon is busy turning its technology into a revenue stream. Earlier this year, Amazon launched the Amazon Honor System inan attempt to leverage its 1-Click payment technology.
The payment program lets participatingWeb sites charge for accessto premium content and collect other types of payments from users. Amazon takes a cut from every transaction.
Cassar said that despite Amazon's best efforts, he does not knowhow successful the payment plan will be. Cassar said if he had tochoose between the Amazon Honor System and person-to-persone-payment service PayPal, he would choose PayPal.
Amazon has also taken steps to become more like a portal bylaunching an movie-listing site supported by online ads.
Mr. Bezos' Wild Ride
Although Amazon is likely to reach operatingprofitability this year, some analysts still believe it will face a cash crunch before long.
According to Cassar, Amazon's "high mark" was 1999 — the year Bezos was chosen asTime Magazine's Man of the Year.
"After that," Cassar said, "people started to question its business model."
Setbacks suffered by Amazon in the past year include thefailure of several companies it had backed, including Pets.com,Living.com and Kozmo. Amazon also has been engaged in ahighly publicized debate with some Wall Street analysts over its accounting practices.
Law and Order
Moreover, a spate of lawsuits,filed in recent months are applying pressure on the e-tailer.
The suits charge that Bezos and other executivesmisled investors in the way they accounted for the equityinvestments made in other e-commerce startups that eventuallyfailed.
Bezos himself has been the subject of an insider-tradinginvestigation by the U.S. Securities and Exchange Commission. Bezos sold about 800,000 shares of Amazonstock, valued at approximately $12 million, in February. Thesale was questioned by the SEC and others because it came days after Amazon received a preview copy of a negative analystreport.
All Is Well Enough
The company has denied any wrongdoing, saying that the analyst report did not provide any information it did not already know.
In the end, May said that none of the issues afflicting Amazon will cripple the e-tailer permanently.
"Amazon is big enough and has enough reach to continue to exist in some form," May said.