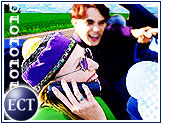 No one has ever accused Amazon.com (Nasdaq: AMZN) of being an e-tail slacker. Something's always brewing in Seattle, Washington, with Amazon forever busy striking alliances and announcing new products.
But the best business decision that Amazon has made in a while is the one to pull back the reins on Amazon Anywhere, at least for the time being.
Published reports have said that Amazon has quietly cut the size of a division dedicated to creating the shop-by-phone-or-PDA (personal digital assistant) effort. The obvious reason for putting Amazon Anywhere on the back burner in the United States is that Web surfers here have been relatively slow — if not notoriously slow — to migrate their Internet use to wireless devices.
But the bigger story is that Amazon is starting to realize that it's okay if people do not feel the need to buy what Amazon is selling every minute of the day. If this adjustment takes hold, Amazon could emerge as an even stronger player in the next act of the e-commerce epic.
Are You My Customer?
The mercy killing, or mercy downsizing as the case may be, of Amazon Anywhere is only part of this new self-image puzzle. The other half comes not directly from Amazon, but from one of the many analysts who make a living and headlines covering the e-tailer.
Recently, Prudential Securities analyst Mark Rowen issued a research note questioning the loyalty of Amazon's 32.5 million customers. As we all know, that customer base is widely believed to be one of Amazon's most valuable commodities. It's one of the reasons brick-and-mortar retailers are willing to join arms with Amazon, not to mention why fellow e-commerce players feel all warm and fuzzy if they score a link from the Amazon homepage.
Rowen asked why so few of those customers buy from Amazon on a regular basis. Because if that's the case, are they really still customers?
The Magic Word
Amazon counters Rowen's argument by saying that customers don't necessarily need something from the e-tailer that often. But when they do, they'll be back.
Bingo. So people don't need Amazon 24/7/365. So what? Heck, it's been proven that people don't even need so-called impulse items like video rentals and pints of ice cream at all hours of the day, thanks to Kozmo.
Maybe Tomorrow
The good news is that it appears this message is sinking in for Amazon. The supposed urgency that had wireless initiatives placed high on the priority list — to capture that grand and glorious market — might not be there at all.
This is not a knock against all things wireless, mind you. I still see immense value in information-based mobile applications. But when it comes to shopping via phones and PDAs, I'm not so sure that the world — at least the North American part — is ready.
How many times will someone really need to buy a book or CD or piece of patio furniture while away from their home or work computer? As of right now and in the U.S., the answer is not very many.
Why Not?
A year ago, such a cautionary message wouldn't have stopped Amazon or anyone else from dumping truckloads of capital into a project like Amazon Anywhere in the interest of being the first to grab patents and market share.
The fact that Amazon is now willing to wait for consumer demand to materialize, before worrying too much about the supply, shows that they've been paying attention in Seattle. And they might have actually learned something.
What do you think? Let's talk about it.

---
Note:
The opinions expressed by our columnists are their own and do not necessarily reflect the views of the E-Commerce Times or its management.
---