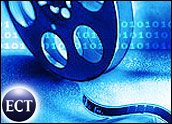 Amazon.com (Nasdaq: AMZN) reached beyond retail for the first time Friday, launching a movie-listing site that will be supported by advertising.
"In Theaters" will initially be supported by advertising from Buena Vista Pictures, a division of media giant Disney (NYSE: DIS), with other marketing partners invited to join.
Amazon is already promoting Buena Vista's "Pearl Harbor" on the site, which also offers localized theater showtimes, customer ratings, and editorial reviews and content from another Amazon partner, The Internet Movie Database.
Amazon chief executive officer Jeff Bezos called the service a "highly targeted and efficient new online marketing channel for theatrical releases."
Marketing Plan
The movie service is the first in what Amazon hopes will be a string of marketing partnerships designed to leverage the e-tailer's base of 28 million customers.
Bezos noted that Amazon's extensive database of customer purchases offers a unique way to reach a target audience.
The new service also sets up a head-to-head battle with Moviefone.com, owned by America Online (NYSE: AOL), which offers similar listing services and has been credited with boosting ticket sales in some markets.
Streams of Revenue
By making the move to non-retail income sources, Amazon is borrowing from the playbook of portals such as Yahoo! (Nasdaq: YHOO), which have been working to find revenue sources other than advertising.
Amazon is counting on its customer base of 28 million people becoming a powerful marketing tool for other companies, such as Disney.
By using advertising for revenue, Amazon could avoid some of the pitfalls analysts say have prevented the Internet bellwether from breaking away from the retail pack despite its market dominance.
Targeted Marketing
Amazon hopes to use the theaters site to target customers who may have an interest in certain subject matter: For instance, Amazon's marketing division may send an e-mail about the Pearl Harbor film to customers who have bought books or videos relating to World War II in the past.
The e-tailer is apparently leaving no option unexplored in its attempt to convince still-skeptical analysts and investors that it will be around for the long haul.
Some analysts still feel Amazon could face a cash crunch before turning profitable on a large scale. To help answer those critics, Amazon has forged deals to give it a real-world presence and said it is open to more such alliances, though it has denied rumors of talks with Wal-Mart Stores (NYSE: WMT) and Best Buy (NYSE: BBY).