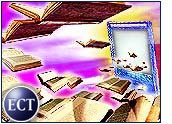 The last time Amazon.com linked arms with a brick-and-mortar retailer struggling for an online foothold, the results were impressive.
That deal was Amazon's partnership with Toys 'R' Us and its Internet affiliate, Toysrus.com. In addition to boosting sales for both companies, that partnership helped force onetime category leader and thoroughbred eToys to drop out of the race for good.
So now that Amazon has agreed to work with brick-and-click bookseller Borders, the logical question is: Will Barnesandnoble.com suffer the same fate as eToys?
Fight Club
Few analysts are willing to make hard-and-fast predictions on what will happen in the online book category — especially since the category includes the ever-changing Net music market.
Most say that Barnesandnoble.com is in a stronger position than eToys, which had rung up extensive financial losses by the time Toysrus.com and Amazon consummated their deal.
Still, Yankee Group analyst Lisa Melsted said that the Amazon-Borders partnership poses "a significant threat" to Barnesandnoble.com, the No. 2 books e-tailer.
Winning Path
"I think it is going to threaten them, though it's hard tosay by how much," Melsted told the E-Commerce Times. "I don't think it's enough to put their online side out of business. But any time your No. 1 and No. 3 competitors get together, you have to pay attention."
Melsted said that Amazon is the biggest winner in the deal because it gains not only customers from Borders, but an offline partner as well.
"Online survival is more and more based in having a footprint across both online and offline retail channels," Melsted said.
Isn't it Ironic?
That last comment is loaded with irony, given that Barnesandnoble.com is a spinoff of brick-and-mortar retailer Barnes & Noble. Until late last year, the online arm was run with minimal connections to the traditional store.
However, Barnesandnoble.com has since smartened up, Melsted and other analysts note, installing Internet kiosks inside its brick-and-mortar stores and allowing online shoppers to return products to the traditional stores.
"Right now [the Barnes & Noble stores] are the model for merging bricks and clicks in their industry," Melsted said.
Not-so-Silent Partner
Forrester Research analyst Carrie A. Johnson agreed that Amazon will see short-term benefits from the Borders deal in the form of new customers for its slowing books division.
However, Johnson added that the alliance might buy Amazon renewed competition.
"That competition will come not from Barnesandnoble.com directly, but Bertelsmann," Johnson said, noting that because Bertelsmann is now blanketing the online music business with stakes in Napster, Duet and other ventures, it is in position to dominate digital media sales.
Hitting a Brick Wall
Some might argue that Bertelsmann lacks the all-important brick-and-mortar presence, right? Or does it?
"That's where Barnes & Noble will come in," Johnson said.
One thing is certain: there is already little love lost between Amazon and Barnesandnoble.com. The companies are already locked in a lawsuit over the 1-Click checkout system, for which Amazon holds exclusive patent rights.
Johnson said that the victor in this online book battle may be determined by the allies each side chooses. She thinks that Bertelsmann's aggressive moves actually put the company slightly ahead in the sector.
"In the end, Bertelsmann will deliver the sucker punch," the analyst said.