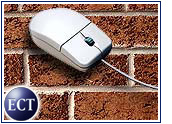 Internet behemoth Amazon (Nasdaq: AMZN) and brick-and-click bookseller Borders Group (NYSE: BGP) announced Wednesday that Amazon will take over Borders' online operations.
The companies said that the Borders.com site will re-launch as a co-branded Amazon site in August. The new site will combine the selection of books, music, videos and DVDs currently available through Amazon and several features unique to the Borders site, namely store location information and in-store event calendars.
"It's not a shocker at all," Morningstar.com analyst David Kathman told the E-Commerce Times. "Both companies need this."
Kathman added that he believes Amazon will continue to cut deals with brick-and-mortar partners, because real-world alliances are what the company needs "for its long-term survival."
Amazon said that the arrangement, along with last year's deal with Toys 'R' Us, demonstrates the "flexibility of Amazon e-commerce platform to meet the needs of other leading companies."
Inside the Deal
Financial terms of the deal were not disclosed, but the companies did say that the arrangement would not alter the previously issued financial guidance of either company.
However, as a result of the alliance, Borders plans to cut all 70 jobs at Borders.com.
The deal calls for Amazon to be the seller of record for items purchased through the co-branded site, and to provide inventory, fulfillment, site content and customer service for the co-branded site. Amazon also plans to incorporate its patented 1-Click ordering technology into the new site.
The companies said that they would continue to work together to offer customer service options, such as giving customers the ability to order merchandise online for pickup at a local Borders store.
Despite the loss of its standalone Web site, Borders' decision to keep the Borders.com store open as a co-branded entity will allow the company to have an online presence to promote its bookstores.
Book Battles
The alliance between Borders and Amazon marries two of the top three online booksellers into a union that could prove troublesome for the third: Barnesandnoble.com.
In the online bookselling sector, Amazon is consistently No. 1 and Barnesandnoble.com No. 2. Amazon was the 10th most visited Web site overall, and the most visited e-tailer during February, according to a Jupiter Media Metrix survey. BarnesandNoble.com ranked 49th, while Borders did not make the list.
Amazon also dominates the market in sales, having sold US$1.7 billion worth of books, music, and videos last year. By comparison, Barnesandnoble.com sold $320 million and Borders sold $27 million.
Coming Off a Victory
Many observers believe that the duo of Amazon and toyseller Toys 'R' Us, who joined forces in a co-branded site in August, played a significant part in the demise of eToys last holiday season.
Even though eToys was the second most visited e-tailer during the most recent holidays, it had only 21 million visitors during the period, compared to Amazon's 122 million.
Although Amazon has been closemouthed on the rumors that it has been in strategic talks with other retailers, namely Wal-Mart and Best Buy, Amazon chief financial officer Warren Jenson reportedly told analysts in March that the company was interested in duplicating the success it has had with the Toys 'R' Us alliance.
There are a number of brick-and-mortar retailers interested in forming partnerships with Amazon, an Amazon spokesperson said last month.