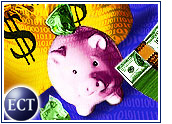 Internet retailers using strategic pricing for the Web are more likely to attain long-term success, according to a study released Wednesday by McKinsey & Company.
"Improved pricing represents a large and as-yet untapped opportunity for pure plays and for traditional offline companies that have ventured onto the Internet," said McKinsey analyst Walter Baker.
"Getting pricing right has emerged as one of the ultimate keys to the success of e-businesses, but few companies have even begun to explore the opportunities," Baker said.
The report, "Getting Prices Right on the Web," pointed out that many pure-play e-tailers started out on the Web offering steep discounts, while traditional retailers moving online have been reluctant to change their brick-and-mortar store prices for the Internet.
How Low
Low prices, although consistently cited by consumers as an online shopping draw, are not as important as many believe, the study said.
"Most buyers do very little cross-shopping," the report said.
The report cited data showing that 89 percent of online book shoppers and 84 percent of toy shoppers bought at the first site they visited.
However, the study found that "price changes that appear capricious or, worse, deceptive can cause long-term damage to a company's price proposition."
In Range
When looking at the price question, the study found that it is important to realize that every product has a price range, within which changes have little impact on consumer behavior.
According to the report, prices for well-known brand-name consumer health and beauty products can be raised as much as 17 percent without a change in consumer reaction. However, the range in which price variations are acceptable for certain financial services is less than 1 percent.
After determining the appropriate range, the key to the price puzzle, the report said, is to find even a minor shift in price without an impact on sales, in order to boost profit margins.
Advantage: Internet
McKinsey said that Internet technology gives Internet merchants a distinct advantage, in that they can conduct price testing that can quickly reveal how pricing effects sales.
While offline price tests can cost hundreds of thousands of dollars and take months to complete, the Web enables real-time tests to be done at virtually no cost, according to the study.
For instance, a merchant could charge every 50th customer a higher or lower price and track the results over time, Baker said.
"On the Internet, measurements of consumer tolerance for different price levels are cheap and instantaneous," the analyst added.
Testing Ground
Web merchants can also change prices instantly, the report noted, enabling sellers to benefit from short-term changes in customer demand and market supply, if they remain flexible.
McKinsey cited an electronics component maker that changed its prices faster than competitors when a shortage arose — boosting profits by US$25 million as a result.
McKinsey also recommended that e-tailers develop the data and technology to enable segmented pricing, which targets shoppers depending upon their buying history.
How Far
However, the consulting firm pointed out that such tests can pose a risk of consumer backlash, citing the ill-fated pricing test conducted by Amazon.com last year.
Amazon eventually apologized for its test, which quoted different customers varying prices for the same DVDs. Though critics charged that Amazon had tailored its prices based on demographics, the e-tailer said its price changes were part of a random test.
Control Group
McKinsey recommended that e-businesses set up small groups charged with the task of constantly monitoring opportunities to adjust prices based on market changes and customer behavior. The group members should hold an entrepreneurial view of pricing, according to the report.
Giving the authority to a small group will cut down on the lead time for price changes when delays could mean lost profits, the firm said.