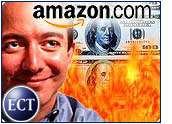 The day after Amazon (Nasdaq: AMZN) announced it would see a narrower-than-expected lossfor the first quarter, shares of the e-tail giant continued their dramatic ascentin early morning trading Tuesday, rising more than $2.00, or 19 percent, toas high as $13.50 a share. But will such renewed optimism hold, or is thesudden turnaround a false boom?
Bear Stearns analyst Jeff Fieler told the E-Commerce Times that he believes the optimism about Amazon.com will carry on.
"Yesterday's report assuaged a lot of the concernsweighing on the stock regarding its ability to get through 2001 in terms ofliquidity and to reach its Q4 goal of operational profitability," Fieler said. "While it'snot the end game, the interim report card shows they're on the right track,and to the extent these questions don't crop up again, [Amazon] should beable to sustain at the $11.00-$12.00 range."
Rainbow's End
Forrester analyst Christopher Kelley told the E-Commerce Times that Amazonis well positioned to take advantage of the slowing economy.
"It's encouraging — even though there's been a lot of issues with theeconomy, consumers are still flocking to the Net to buy products because ofthe control and convenience of buying online," Kelley said. "Amazon is in a very goodposition because it has so many buyers sold on the value proposition itoffers."
As consumers attempt to pinch their pennies in a struggling economicenvironment, Amazon will be there to help them save, Kelley said.
"One of the things they're doing well are the different promotions they'vebeen doing lately (such as buy four or more books, get three shipped free)," said Kelley."Consumers love promotions, especially in a time like this when they arelooking to save a couple of bucks. It's a great advantage relative to brick-and-mortars."
Trial by Fire
Whether Amazon has made truly sustainable financial strideswill depend on the factors driving Amazon's improved operational efficiency,Fieler said.
"What drove it?" Fieler asked. "Was it lower marketing expenses or fulfillment expenses?"
To the extent that Amazon's latest gains are due to fulfillment, that is "more sustainable and better news" forthe company, Fieler said.
Publishing Deal
Amazon's financial boost arrived on the same day the Internet giant unveileda new alliance with Adobe Systems to offer Acrobat Reader (PDF format)e-books on its site. The partnership will give Amazon nearly 2,000 additional e-books to sell, doubling its previous electronic book offeringsand including titles from such traditional publishers as Harper Collins and Simon& Schuster.
Over the next 12 months, the two companies plan to extend the alliance toAmazon's international sites in France, Germany, Japan and the UnitedKingdom. Amazon previously only carried titles compatible with MicrosoftReader.
"[Amazon] understands that the reach of eBooks is much bigger thanmainstream novels and consumer titles," said Michael Looney, senior directorof eBooks at Adobe.
Pot of Gold?
However, Fieler said that the e-publishing alliance is not likely to provide significant returns foreither Amazon.com or Adobe in the near future.
"The deal with Adobe is really more about positioning for the future ofe-books, rather than one that will generate revenue for either company in thenext two years," Fieler said. "I really see the announcement more as a non-event."