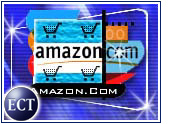 Providing a welcome dose of good news amid a flurry of dire earnings forecasts, e-tail giant Amazon.com said Monday that it would post a narrower-than-expected loss for the first quarter due to surging electronic sales.
The Seattle, Washington-based online bellwether reported that it would post a pro forma loss of slightly less than US$50 million, or 22 cents per share. Analysts surveyed by First Call/Thomson Financial were expecting losses of 30 cents per share.
"I definitely think it's a good thing for Amazon," Jupiter retail analyst HeatherDoughtery told the E-Commerce Times. "Any Internet-only company being able toreport something positive in this skeptical market" certainly has a lot tobe pleased about.
Doughtery added that Amazon's numbers are especially surprising "becausefirst quarter is usually not a strong time for retailers."
"There's generally a drop-off after Christmas," said Doughtery. "This is thetime of year when people are paying off their credit cards."
Investors Pleased
Amazon CEO and founder Jeff Bezos said the company has had an "excellent" quarter, which ended March 31st.
"For the fifth consecutive quarter, we saw substantial improvement in our operations and bottom-line performance," said Bezos. "Electronics demonstrated especially strong growth and improvements."
Investors were clearly pleased with the announcement, sending Amazon's stock climbing $2.67, or 31.9 percent, to $11.04 in early trading Monday.
Profitability at Hand?
Amazon also reaffirmed earlier forecasts for 2001, which included pledges that it would reach profitability by year's end. The company added that cash and marketable securities are expected to be over $640 million for the quarter, and will increase to over $900 million by the end of the year.
Despite these projections, the e-tail powerhouse has been involved in a very public battle with Lehman Brothers vice president of convertibles strategy Ravi Suria, over a report in which Suria said Amazon did not have enough money to survive 2001. The report drew a sharp retort from Amazon.
Suria, who has since left Lehman, questioned the validity of Amazon's reported $1.1 billion cash on hand. He placed the company's liquidity at $386 million and predicted that without a cash infusion, the company would "dip into negative territory." For its part, Amazon has maintained that it is highly liquid.
Doubts Remain
Other analysts believe Amazon's working capital may shrink during the year and could very well go negative before the company gets in the black.
"If they get through the liquidity issue, then it is likely they can achieve profitability by Q2 or Q3," Morningstar.com analyst David Kathman told the E-Commerce Times. "It looks like they can achieve the profitability goal at the expense of their growth."
Doughtery is skeptical that Amazon will be able to turn a profit before thenext fiscal year. However, she noted that if Amazon is to succeed in doingso, it will probably need to team up with other brick-and-mortarretailers, such as Wal-Mart, "in order to take away some of the risk instrengthening" these other businesses.
Core Business Slowing
Amazon also said that gross profit in U.S. books, music and video is expected to increase more than 30 percent on "very slight" sales growth, which analysts say may be cause for concern.
"Their core business of books, movies and videos continues to slow dramatically," said Kathman. "If that core business is not growing, where is the revenue coming from?"
Although the sale of big-ticket electronics items would contribute to higher growth, Kathman said a potential concern is that margins "are not very good" in this area.
"Before I get enthusiastic, I'd like to see some real specific numbers," said Kathman.
Electro-Shock
Doughtery added that "everyone felt like [Amazon] shouldn't be there" in consumer electronics. The market competition in this arena isespecially intense, with such rivals as Best Buy, Circuit City, Kmart, andWal-Mart, all of who have a brick and mortar presence.
"For example, Circuit City offers in-store pickup, something which Amazoncannot compete upon," Doughtery said, adding that this is one of the manyreasons analysts consider Amazon's news in this sector a shock.
By the Books
Amazon said that it should see net sales of more than $695 million for the period, a 21 percent spike over the $574 million in revenue it posted during the year-ago quarter. First Call estimates had pegged the figure at over $669 million.
Net loss is expected to be less than $255 million. Excluding the quarter's portion of a restructuring charge, the net loss is expected to be less than $150 million.
Although Amazon beat forecasts when it reported fourth-quarter results, it also warned that sales for 2001 would be less than analysts expected at the time. It also announced the layoff of 1,300 workers and a $150 million restructuring charge.
Amazon is slated to release complete first-quarter results after the market closes on April 24th.