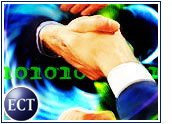 Two weeks after rumors surfaced that Amazon (Nasdaq: AMZN) would link with retail giant Wal-Mart, a report Monday said that the e-tailer is now discussing a strategic alliance with consumer electronics seller Best Buy (NYSE: BBY).
Representatives from Amazon and Best Buy refused to comment on the report in TheStreet.com, which said that the companies are in "senior-level" talks about an alliance that would operate on the same basic premise as Amazon's successful partnership with Toysrus.com.
Amazon and Toysrus run a co-branded Web site, with Amazon handling the Web site itself and order fulfillment. Just months after its formation, that site quickly became the dominant online toy seller during the most recent holiday season.
Best Buy already operates its own online store and has a long-standing marketing alliance with Microsoft.
Poker Faces
Amazon executives, while downplaying news of talks with Wal-Mart earlier this month, said that the company remains open to additional alliances with traditional retailers.
An Amazon spokesman did acknowledge Monday that the Seattle, Washington-based e-tailer has heard from many brick-and-mortar retailers interested in partnerships in recent months.
While an alliance with Amazon would link Best Buy with an experienced Web merchant whose customer base totals 23 million, such a deal would probably provide Amazon with an even more immediate benefit: access to additional working capital.
Analysts Worry
That in turn could help Amazon silence a growing number of financial analysts who have raised questions about the e-tailers long-term financial health. Last week, a group of Wall Street analysts last week renewed their call for a more detailed explanation of the e-tailer's cash position.
The New York Society of Security Analysts' Committee for Corporate Governance has twice asked Amazon to provide support for its position that it is not facing a credit crunch. However, the security analysts say they are not yet satisfied with Amazon's response.
Electronics Chief Leaving
News of the Best Buy talks emerged on the same day that Amazon confirmed that the head of its consumer electronics retailing division is leaving the company.
Amazon said that Christopher Payne was leaving for personal reasons. His resignation will take effect at the end of this week.
The consumer electronics business, which includes software and Amazon's new cellular phone store, has become Amazon's second-largest revenue generator behind books. Industry observers say an alliance with a consumer electronics retailer like Best Buy may provide the Web giant with access to merchandise at lower costs.
Amazon's ability to boost its profit margins in the electronics arena is seen as key to the e-tailer reaching its goal of profitability by the fourth quarter of 2001.