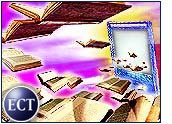 Driven by a number of consolidation efforts, online book vendor Barnesandnoble.com (Nasdaq: BNBN) announced Thursday that it narrowly beat Wall Street estimates and trimmed its losses for the firstquarter.
The e-tailer, which is majority owned by brick-and-mortar namesakeBarnes & Noble and German media giant Bertelsmann AG, said that it achieved theresults through streamlining its distribution and fulfillmentoperations, growth in its title selection, and the expansion of its businesspublisher subsidiary, Fatbrain.com, in the corporate market.
"We are pleased with our first quarter results, and we believe our growth in sales and market share is clear validation of the importance of e-commercein the bookselling industry," said Barnesandnoble.com vice chairman Steve Riggio.
Total operational expenses fell by 14 percent, to US$68.2 million from $79.7 million, the company said.
By the Books
In a quarter that experienced a dramatic slowdown in online book sales,Barnesandnoble.com apparently bucked the trend. For instance, a studyreleased earlier this week by Forrester Research found that Internet booksales only increased by 1.25 percent between February and March.
Barnesandnoble.com, however, said that sales for the first quarter spiked 23percent, to $109 million from $88.6 million in the year-ago quarter. Inaddition, the company acquired more than 945,000 new customers during theperiod, a 12 percent increase from the end of 2000, bringing the site's total customer count to over 8.7 million.
In contrast, Barnesandnoble.com's chief competitor, Amazon.com, reported earlier this week that its core books, music and video category showed a 2 percent year-to-year net sales growth.
A note from Prudential Securities analyst Mark Rowen reportedly said thatBarnesandnoble.com succeeded in taking about 6 points of market share fromAmazon in the first quarter. Friday, Prudential upgraded Barnesandnoble.com stock from sell to hold.
Cutting Promo
Barnesandnoble.com said it was able to achieve the increase by keeping itspromotional offers — such as free shipping and offline advertising — at a minimum.
"Our first quarter results indicate that we are already seeing the benefitsof our consolidation effort and are quickly leveraging our fulfillment andcustomer service network," said Barnesandnoble.com chief financial officerMarie Toulantis.
In early trading Friday, BarnesandNoble was up 24 cents, or 11.7 percent, to $2.30.
Behind the Numbers
Barnesandnoble.com's loss for the quarter ended March 31st was $33.7 million, or 21 cents per share, compared to a loss of $35.9 million, or 23 cents per share, in the year-ago period.
The e-tailer's pro forma loss before interest, taxes, depreciation and amortization dropped 28 percent in the quarter, to $27 million from $37.6million in the same period last year.
At the conclusion of the quarter, Barnesandnoble.comreported that it had $174.5 million in cash and marketable securities and no debt.
Turning the Page
Looking ahead, the company forecast second-quarter sales between $90 million and $100 million, with a loss of between 20 cents to 23 cents per share.
Barnesandnoble.com said that its full year outlook was unchanged, with projected sales of $420 million to $476 million and losses of 75 cents to 85 centsper share. Analysts surveyed by First Call/Thomson Financial estimate thecompany will post a 2001 loss of 82 cents to 85 cents per share.
Earlier Results
In February, Barnesandnoble.com posted a fourth-quarter loss of $143.49million, or 90 cents per share — more than a three-fold increase over the$38.34 loss, or 27 cents, reported in the same period a year earlier.
Thecompany attributed the big Q4 loss to a number of one-time investments indistribution, technology and customer service, as well as the acquisition ofFatbrain.com.
At the time, Barnesandnoble.com also slashed its workforce by 16 percent,or about 350 full-time positions, and closed two facilities.