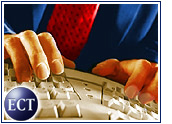 Online spending climbed to US$3.5 billion in March — a 36 percent spike from the $2.6 billion seen last April — as almost half of all Americans made purchases via the Web, according to data released Tuesday by Nielsen//NetRatings and Harris Interactive.
As part of their latest eCommercePulse, which surveyed roughly 39,000 Internet users, the research firms also found that more than 81 percent of all adults with Web access have conducted an e-tail transaction since they initially went online.
"Despite challenges in the U.S. economy, online spending is holding strong, even gaining 4 percentage points from February to March 2001," NetRatings vice president Sean Kaldor said. "E-commerce has gone mainstream."
Taking Flight
Two product categories accounted for more than half of the online spending growth, the study concluded.
Online travel jumped 58.5 percent, to more than $1 billion in March, while clothing and apparel increased 122.3 percent, to $368 million.
The travel industry has recently become one of the strongest performing sectors of e-commerce. A study released Monday by Jupiter Media Metrix found that if anything, the overall U.S. economic slowdown was helping the travel sector grow.
In the Nielsen//NetRatings and Harris index, Travelocity, with a 2.5 percent market share, and Southwest Airlines, with a 2 percent market share, toppled their competitors. Southwest also captured the top ranking in online travel customer satisfaction in a separate study released by Nielsen//NetRatings.
eBay Closing In
Although Internet heavyweight Amazon.com led the e-tail market by garnering more than 15.1 percent of all online buyers, the study said that eBay was nipping at its heels, grabbing 14.5 percent of all Internet shoppers.
"While Amazon commands much of the attention in e-tailing, eBay attracts nearly as many customers," said Kaldor.
In fact, Kaldor noted, adding eBay's numbers to those of its subsidiary Half.com would give the auction powerhouse more customers than any other online merchant and propel it into the top e-tail spot.
Rounding out the top five Internet marketers were BMG.com, with 4.3 percent of e-shoppers, Barnesandnoble.com and ColumbiaHouse.com.
Beating Expectations
eBay helped add to the recent wave of profitable earnings reports last week, announcing that its net income for its first quarter 2001 was $21.1 million, or 8 cents per diluted share.
For its part, Amazon said earlier this month that it would post a narrower-than-expected loss for the period, due to a surge in its sales of electronic goods. Amazon was scheduled to release its first-quarter earnings report after the stock markets closed Tuesday.