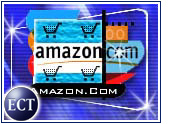 Riding strong electronics and international sales through a traditionallyslower quarter, Amazon.com (Nasdaq: AMZN) posteda pro forma net loss of US$49 million, or 21 cents per share, for the firstquarter ended March 31st, beating initial analyst estimates by 3 to 4 cents.
In discussing the results, Amazon chief executive officer Jeff Bezos emphasized the value its e-commerce platform is creating with new partners such as Borders.com.
"Over the last year, it's become increasingly clear that our platform hasbecome valuable to other companies," Bezossaid. "But we don't expect to rely on newrevenues from this segment to reach our goal of pro forma profitability bythe end of Q4. We will rely on vendor management, inventory management, andsignificant gains in operating productivity."
Bezos also said that Amazon expects to add additional product categories both in the U.S. and internationally.
Growth Chart
Amazon said that it expects its second quarter losses to remain flat or slightly improve during the next quarter.
Amazon's net sales for thefirst quarter rose 22 percent compared to the same quarter last year, withelectronics net sales growing 56 percent and international sales 76 percent.
Shares of Amazon closed Tuesday at $15.68, down 52 cents, an hour before the companyreleased its first quarter results. At the start of after-hours trading, the stock rose to $15.80.
Amazon stock has gained over the past few weeks, jumping from around $11, in response to early announcements by Amazon of the narrower-than-expected loss.
Momentum Building?
In January, Amazon beat forecasts for its fourth-quarter 2000 results, but warned at thetime that sales for 2001 would be less than analysts expected. Amazon alsoannounced a $150 million restructuring charge at that time and the layoff of 1,300 workers.
Amazon said Tuesday that it expects to take additional restructuring and other charges of over $50 million during the second quarter of the year.
Skeptics Remain
Not all analysts are convinced Amazon is positioned for profitability by theend of the year. The e-tail powerhouse became involved in a verypublic battle with former Lehman Brothers vice president of convertiblesstrategy Ravi Suria, over a report in which Suria said Amazon did not haveenough money to survive 2001.
Amazon said Tuesday that it ended the first quarterwith $643 million in cash and marketable securities.
One major area of analyst concern seemed to be verified Tuesday, however, withAmazon's core books, music and video category (BMV) showing only 2 percentyear-to-year net sales growth. In contrast, late-comer Barnesandnoble.com said it will report a 23 percent increase in sales for the first quarter over the year-ago period.
"The real thing long-term that affects the growth (in BMV) is customerexperience, and we do have folks working on initiatives that we think will behelpful," Bezos said. "All of the energy and attention that historically went into top-line growth, we are now very focused on operational profitability. (But) noone should believe we are done with U.S. BMV growth."
Brick Building
Most analysts agree on one point: that in order to reach its goal,Amazon must continue partnering with other brick-and-mortar retailers.
Amazon took a major step in that direction with the announcement on April11th that it was taking over Borders' online operations and re-launchingthe Borders' site as a co-branded Amazon site in August.
The new site will combine the selection of books, music, videos and DVDscurrently available through Amazon and several features unique to theBorders site, namely store location information and in-store eventcalendars.
Amazon also significantly expanded its product offerings over the firstquarter, introducing a Software Downloads store, a global alliance to offerthe Adobe e-books, and a new free music downloads community.