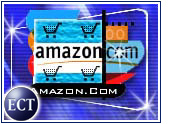 Amazon.com (Nasdaq: AMZN) slipped 66 U.S. cents to $16.90 in morning trading Monday, after a published report said the e-tail giant has scaled back its mobile commerce efforts in the face of a weak U.S. market for wireless shopping.
The Wall Street Journal, citing "people familiar with the effort," said that Amazon for a time considered spinning off its Amazon Anywhere wireless division as a separate company but has since laid off workers in the division amid its focus on cutting costs.
Amazon in January said it would lay off 1,300 workers as part of a plan to reduce expenses and reach profitability.
An Amazon spokeswoman quoted in the paper as confirming cutbacks in the division was not immediately available for comment. The spokeswoman, Patty Smith, was quoted by the Journal as saying that Amazon had decided to focus on businesses with more "bang for the buck" as projections for strong m-commerce demand failed to materialize. Amazon Anywhere was launched in 1999.
Though research firms continue to predict growth for wireless e-commerce, consumers in the United States have yet to embrace the idea.
Amazon, for its part, said in March that Amazon Anywhere "continues to grow." Customers using the service were most likely to buy from Amazon's music store but also purchased large-screen TVs and digital camcorders, Amazon said.
The company also said customers from overseas bought products using their wireless devices.
Last month, Amazon posted a smaller-than-expected loss for the first quarter ended March 31st. The company said it ended the quarter with $643 million in cash and marketable securities.